Business Minister Edwina Hart misses MPs' economy talks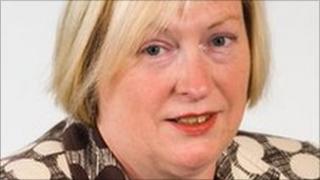 The Welsh Government has declined to disclose where Business Minister Edwina Hart will be when MPs hear evidence on the economy in her absence.
She has refused to attend a parliamentary inquiry on inward investment on Thursday.
Opponents criticised her decision not to meet the Commons' Welsh Affairs Committee when it meets in the assembly.
Her spokesman said the details of ministers' diaries were not revealed.
Mrs Hart sent the committee a two-sentence reply when she was invited to appear before it, saying: "I will not be attending."
She told AMs in the Senedd chamber in July that she was "happily" supplying written evidence to the committee on broadband "because that is a matter I think that we jointly need to deal with across the UK".
'Utterly deplorable'
"The economy is my responsibility here in Wales and I think I am capable of doing my job on that," she said.
Liberal Democrat business spokeswoman Eluned Parrott said: "I find it utterly deplorable that the business minister refuses to attend to give evidence on something vitally important to the Welsh economy.
"My fear is that when the Welsh business minister fails to show her commitment to this important agenda, it sends out the signal that Wales is closed for business."
Ms Parrott is due to give evidence to the committee, as are Conservative shadow business minister Nick Ramsay, backbench Labour AM Mark Drakeford and David Stevens, chief operating officer of insurance group Admiral.
It is not the first time Mrs Hart has refused an invitation.
As health minister in 2008 she declined to give evidence to an inquiry on cross-border health services.
Asked what engagements she had lined up for Thursday, Mrs Hart's spokesman said the Welsh Government did not discuss the details of ministers' diaries.
"Mrs Hart has meetings through the day," he added.