Beach huts could return to Rhyl seafront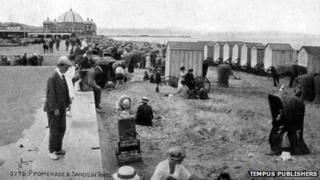 Beach huts could make a return to Rhyl as a way to help revive the seaside resort's fortunes.
Denbighshire council has extended its consultation period giving people a say on its plans to bring in more visitors.
Officials also want to encourage private house builders to the area, saying the west of Rhyl, ranked as Wales' most deprived ward, has relied too long on housing associations.
They say they want to "attract and retain economically active people".
But not all Rhyl residents are happy with the ideas in the draft document.
Former town councillor and local historian Colin Jones called the proposals in Rhyl Going Forward "disappointing", saying the document does not contain anything substantial, neither start dates or costings.
Day visits
He explained that the resort had chalets on the front in the 1950s.
And horse-drawn huts were used at the turn of the century to take occupants down to bathe in the sea.
The council report says: "The intention is to build on Rhyl's reputation as a family resort by providing appropriate facilities and activities to sustain and grow this market."
It recognises that the "visitor experience is likely to be dominated by day visits rather than the two weeks by the sea of the past".
The council's promenade masterplan says: "Consideration will also be given to how we can improve links between the promenade and the beach, and how we might reintroduce some beach huts to the east of the Pavilion Theatre.
'Break this cycle'
"There are also definite plans to create an outdoor gym near to the stone circle in the East Parade area of the promenade."
In the adjacent children's village, which is made up of fairground rides, the document says: "Initial contact has been made with some national restaurant chains with a view to them refurbishing and occupying these units, to create a strong leisure/entertainment offer in this area."
Earlier this month, part of Rhyl's west end was ranked first for the second time in succession as Wales' most deprived area.
The Welsh Index of Multiple Deprivation said more than half of working-age people (56%) in the area receive benefits.
The document Rhyl Going Forward says residential developments that have taken place in west Rhyl in the last few decades have been almost exclusively developed by housing associations.
"We want to break this cycle and work with private sector developers to build new homes that will attract and retain economically active people," says the report.
Denbighshire council is asking people to comment and take part in an online survey.