Location, location, location
UPDATE 1830
What was that about Enterprise Zones and timing? The Business Minister Edwina Hart has just told Wales Today viewers that there will be five new zones set up in Wales.
They are:
Anglesey for energy.
Ebbw Vale for automotive.
Deeside for advanced manufacturing.
St Athan in the Vale of Glamorgan for aerospace.
Cardiff Central Business District for financial services.
Mrs Hart was pretty circumspect on the details this evening - companies in those sectors in those areas will benefit from 100 per cent business rate relief - but it's not clear whether Wales will follow England in relaxing some planning rules too.
Discussions are also underway with the UK government about capital allowances.
There was one point Mrs Hart was adamant on during her interview: tonight's announcement has nothing to do with this morning's news that Jaguar Land Rover are to locate a new engine plant in an Enterprise Zone in the West Midlands.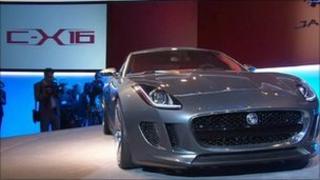 This morning's news that Jaguar Land Rover is to site its new engine plant in Wolverhamptonrather than south Wales is "good news for the UK economy" or "obviously disappointing", depending where you're sitting this morning. The Welsh Government was diplomatic enough in its response a few moments ago to say that it is both.
What it certainly does is raise a number of intriguing questions about competition for investment across the UK.
It's hardly surprising that the decision has been warmly and publicly welcomed this morning by UK Government business ministers like Vince Cable and Mark Prisk. Making the announcement on the day of Mr Cable's party conference speech is a happy coincidence, no doubt.
And why wouldn't they be so delighted? There was a chance that JLR could have taken their business overseas, to India for example.
But it's the first time that I can remember such a polarised investment decision between Wales and England - with the UK Government clearly backing the West Midlands option. Nothing wrong with that, of course. Business and enterprise is devolved. The UK Government was batting for England and no-one else.
But it illustrates why the pressure will be on the Welsh Government to make that Economic Renewal Programme really work - and quickly.
The UK Government is contributing £10m to JLR's £355m project through the Grant for Business Investment scheme - a pretty small proportion of the cost. It sounds, significantly, as though Wales wasn't necessarily outbid in terms of cold hard cash to bring the plant here.
The Tory MP Alun Cairns had suggested to the company that they could locate within a Convergence area in Wales (the Felindre site north of Swansea, for example) which would have have delivered a greater financial boost on JLR's investment through Regional Selective Assistance.
There's also the added interest that the plant will be located in one of the UK Government's Enterprise Zones. It's still not clear how much JLR's decision hinged on the benefits from being in an EZ but it's grist to the mill of those who've been calling for them to be implemented here as soon as possible.
Just last Thursday Labour AM Mark Drakeford, giving evidence to the Welsh Affairs Select Committee, said that Enterprise Zones will be deployed by the Welsh Government "as one of the tools available to it". Listening from the gallery above the committee room - and listening to government sources afterwards - I'd say it was less a "Let's go for it!" than a 'Yes ok, you've been banging on about this for ages and yes, we realise that if we don't set up some form of Enterprise Zones in Wales, then jobs near the border could be lost to zones up and running in Bristol and the Wirral and then you'll blame us for not having got there first ... but what we must do is create jobs, not displace them from one place to another so that, frankly, we're taking our time over it'.
About ****** time you said something, was the gist of the response from the Tories and Lib Dems, couched in the sort of polite terms you might expect from a Select Committee evidence session.
And here's another reminder of Thursday's Select Committee visit. Why did JLR choose Wolverhampton? Because, the company told us "a central location offers the most efficient business solution in terms of proximity to our vehicle assembly and engineering facilities, a highly skilled workforce and our supply chain".
"There is a perception" David Stevens of Admiral Insurance told the committee "that Wales is further away than it is" and that it's "grumpier than it is ... still stuck in a time of greyness and soot".
His point was that Wales is none of those things but that the perception, despite a great deal of effort to change it, persists.
Bring back the WDA then? A question posed directly by committee member Sian James (a rare one that didn't include the words 'in Swansea' - she won constituency bingo hands down.) Mr Stevens batted it off. But what Wales needed, he said, wasn't slick ads on jumbo jets or glossy brochures. It needed someone to spot new, up and coming companies and "without having to practically lay gold at their feet" bring them to Wales, "heart and brains." Look at LG he said. What you need are 25 Admirals, not the sort of "vote of confidence in the Welsh economy" LG delivered..
Chair David Davies looked thoughtful throughout and let only one acerbic comment cross his lips. The fact that his committee was meeting in the Senedd, taking evidence from AMs, was a symbol, he thought out loud, of what co-operation could achieve for the Welsh economy, "of what is possible". He then added, not quite under his breath, "... and perhaps what is not possible". No doubt that line has long since reached the ears of the otherwise-engaged Business Minister.
Why JLR chose Wolverhampton over Wales, what the full financial package they were offered might be, we don't know. The Welsh Government says it "worked extensively with the company to try to bring them to Wales but ultimately this was a commercial decision by Jaguar Land Rover, which has its UK headquarters and a strong existing presence in the West Midlands".
There is still a chance for Welsh companies to supply components and parts to Jaguar Land Rover. You just get the feeling that today's news - seen from Wales - amounts to rather more than the sum of those parts.