Season's greetings: busy autumn in store for assembly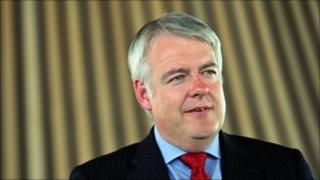 Welsh assembly members have returned to Cardiff Bay after the long summer recess. BBC Wales political reporter Daniel Davies looks ahead at what the autumn holds for the assembly.
An AM told me this week that his summer holiday felt like a lifetime ago.
He and his colleagues are back at their desks and preparing for the first plenary session of the autumn term on Tuesday.
It is a term that is likely to test the authority of the Labour government in Cardiff Bay.
Carwyn Jones was determined to plough on after his party was denied an outright majority at May's election.
Before the election he thought a "comfortable working majority" was within reach. The electorate thought otherwise, leaving Labour and the opposition tied on 29 seats each.
Labour has been here before. Under previous First Minister Rhodri Morgan a united opposition was able to extract concessions from a minority administration.
In the immediate aftermath of the election, Mr Jones appeared determined to avoid the budget wrangling forced upon his predecessor.
A "humble" Labour government would talk to other parties to get a budget passed, he said.
We will find out how successful he has been when Labour appeals for opposition approval of its spending plans.
Finance Minister Jane Hutt will publish a draft budget on 4 October.
How will Labour react if, at a time of cuts, it is forced to accommodate someone else's priorities instead of spending the Welsh Government's £15b budget on what it wants?
Gang up
Labour will also need a sympathetic opposition to pass legislation. The government cannot muster the votes its needs to use the assembly's newly beefed-up law-making powers.
Mr Jones gave us a flavour of what his administration wants to achieve when he outlined the legislation Labour will introduce between now and the next election in 2015.
A more detailed programme of government, something that the opposition has pushed for, is due to be published next week.
If the other parties gang up on Labour it will require opposition leaders to work together, one of whom is starting his first full term.
On Tuesday, Andrew RT Davies will take on the First Minister as the leader of the Conservatives in the Senedd.
Mr Davies will be keen to land a blow when Mr Jones returns to the chamber for his first weekly grilling of the term.
No guarantee
Whatever line of attack Mr Davies chooses for his debut, Mr Jones and his government will be forced - sooner or later - to fend off difficult questions about the economy.
Tata steel - Wales' biggest private-sector employer - is halting production at its Trostre tinplate works in Llanelli for a week, Jaguar Land Rover is siting an engine factory in Wolverhampton instead of south Wales and the most recent figures on the job market show unemployment continuing to rise.
There is no guarantee that the opposition will gang-up on Labour as it has in the past. But neither are there any guarantees that Labour will get everything its own way in the run up to Christmas.