Conservatives criticise 'fag packet' enterprise zones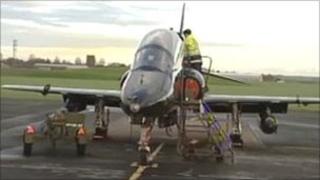 The Welsh Government has been accused of rushing out an announcement about nurturing businesses.
Conservative assembly leader Andrew RT Davies said the government's enterprise zones policy had been made up "on the back of a fag packet".
Industries in five zones across Wales will receive rate relief and may benefit from tax breaks.
Business Minister Edwina Hart said she had made her decision after listening to businesses over the summer.
Ministers had been urged to act after 21 zones were announced in England.
The five zones will be at Anglesey, Ebbw Vale, Deeside, St Athan in the Vale of Glamorgan, and Cardiff.
The Welsh Government said its plans were in the early stages and no final decisions have been made on whether to relax planning rules.
It is initially making £10m available over the next five years.
The announcement was made the day before the assembly's first plenary session of the autumn term and on the day Jaguar Land Rover said it would open a new engine factory in the West Midlands.
Mrs Hart said enterprise zones had not been a factor in the car manufacturer's decision to overlook Wales.
Jaguar, which also considered India, said a £355m factory in Wolverhampton would be closer to its other plants.
The Ebbw Vale enterprise zone will be designated for the automotive industry.
'Lack of respect'
Mr Davies said: "At 12 o'clock yesterday I had a written reply from the minister that indicated that no announcement was imminent.
"I do believe that the minister was making it up on the back of a fag packet.
"It does show in my mind a lack of respect to this institution. We're sitting today, we're sitting tomorrow (and) such a major announcement should be made on the floor of plenary.
"Have we got a government driven by policy, by initiative or have we got a government driven by the media?"
Mrs Hart told BBC Wales on Monday: "This is a first stage announcement, we are having discussions with other local authorities and partners about possible other enterprise zones.
"I think what's been made clear to me over the summer from industry and all the people I've spoken to is they regard enterprise zones as a real focal point for them."
She said discussions were ongoing with the UK government over budgets for capital allowances - where companies receive tax breaks when they invest in new machinery to expand.
Liberal Democrat enterprise spokeswoman Eluned Parrott said the zones were "better late than never".
She said: "I am slightly concerned about the prescriptive nature of the zones.
"In Cardiff this is less important as I think it would be financial bodies that would locate there anyway but in other areas it may be dangerous for civil servants to think they know better than the market."
Plaid Cymru economy spokesman Alun Ffred Jones said "huge swathes" of Wales had been left out.
He said: "The locations of the five enterprise zones announced by Labour last night are a complete dismissal of economic development in mid, west and south west Wales - including Swansea, and the majority of the valleys region.
"People in those areas that haven't been selected by Labour will see this as a direct threat to jobs there."
Cardiff council leader Rodney Berman said designating the city centre as a financial services enterprise zone would help it compete with English cities and regions.