Nick Clegg: Coalition cost Lib Dems votes in Wales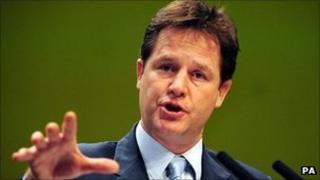 Deputy Prime Minister Nick Clegg has said the Liberal Democrats' coalition with the Conservatives at Westminster was partly responsible for his party's poor showing in May's assembly elections.
But, in an interview with BBC Wales, the Lib Dem leader defended the decision to do a deal with the Tories and said the economic situation also cost votes.
The Lib Dems lost an assembly seat and their share of the vote slumped.
Seventeen candidates lost deposits.
Mr Clegg said voters were anxious about the economy and some were unhappy about the Lib Dems doing a deal with the Conservatives.
But he said the coalition was vital to repair the economy and deliver hope, optimism and jobs. Mr Clegg said the Lib Dems were resilient and would bounce back in next year's local council elections.
He denied that the coalition had sidelined Wales, but said voters would have to wait for details of a new commission on the way the Welsh government is funded.
Mr Clegg said: "Clearly we took a knock in all kinds of elections, not just in Wales but elsewhere this year and I think that's partly to do with the economic environment.
"People are uncertain, anxious.
'Really tough time'
"And partly to do with the fact that, yes, we entered into coalition government with our opponents the Conservatives who are not popular in some parts of the country, not least in Wales."
The Conservatives did comparatively well in May's assembly election, winning 14 seats an overtaking Plaid Cymru to become the biggest opposition party to Labour. The Lib Dems lost one seat overall, to return five AMs.
Mr Clegg said the crises in Greece, Ireland and Portugal were examples of what could happen to countries where politicians do not "get their act together in economically uncertain times".
It was "grown up" and "sensible" for political rivals to set aside their differences to provide a "repair job for our damaged economy".
"At this conference in Birmingham you've seen a party that recognises this has been a tough year, not just for the Liberal Democrats.
"Much more importantly it has been a really tough time and still is for millions and millions of people who are worried about their jobs, worried about paying weekly bills, worried about paying their energy bills this winter.
"And we are doing everything we can to help them. And I think most people respect the fact that we are doing this for the best possible motives."