White smoke over Llanishen?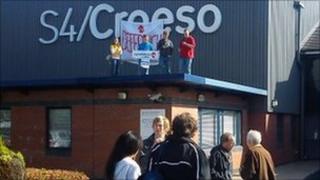 We take decisions because they are right, not because they are easy - Nick Clegg's refrain here in Birmingham this afternoon.
And at S4C HQ in Llanishen, it seems we'll soon find out the decision on a new boss for the channel. The Authority's chosen candidate is currently working through the terms of his departure from his current job. Which has led to intense speculation that it's Ian Jones, formerly of S4C, but now working in New York. It may be that he has a tightly-drafted American-style contract which enforces a period of gardening leave if he leaves to work for another broadcaster - S4C would argue that they're hardly a competition for the History Channel, but it's likely the lawyers may well be fighting it out as we speak.
The scale of the challenge facing the new incumbent, whoever they are is laid clear in the report by the University of Wales' Richie Turner. It's still confidential, but a copy has landed on my desk. The Western Mail has already laid out many of the criticisms with brutal clarity, but one paragraph in particular jumps out now, perhaps with the benefit of hindsight.
"This report has been written during a period of internal reflection and external consultations and conversations. Therefore some very recent changes and improvements may not be fully reflected in the findings. Nevertheless, the overall findings of this review remain clear, relevant, and largely unaffected by any recent improvements by S4C staff and Authority".
Good luck then, to the new boss, who has protesters on the roof - and some very difficult decisions in the in tray.