Electoral Commission advice broke Welsh language rules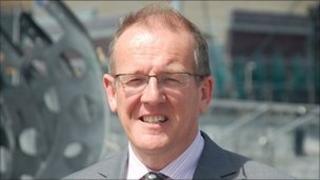 A watchdog failed to treat English and Welsh equally in advice it gave candidates for May's assembly election, the Welsh Language Board has said.
The board found the Electoral Commission breached its own Welsh language scheme.
Inaccurate Welsh language guidance was blamed in the case of an assembly member who was temporarily disqualified for standing while ineligible.
The commission said it "very much regretted" the "rare error".
Liberal Democrat AM Aled Roberts was re-instated to the assembly in July when an investigation found he followed guidance for election candidates published in Welsh.
Although the English-language guidance was up to date, the Welsh equivalent was not and did not refer to a recent order that bans AMs from joining certain organisations.
They include the Valuation Tribunal for Wales - the body that deals with appeals over business rates and council tax, and of which Mr Roberts was a member.
North Wales AM Mr Roberts was suspended after the election, but regained his seat when an investigation said he did everything he could reasonably be expected to when checking he was eligible to stand.
'Confidence'
Welsh Language Board chairwoman Meri Huws said a series of recommendations had been produced for the Electoral Commission.
She added: "In addition, we will bring other organisations' attention to the importance of publishing accurate information in Welsh at all times. This is essential to give people the confidence to use Welsh in their dealings with public bodies."
In a statement, the Electoral Commission said it was fully committed to a comprehensive bilingual service in Wales and that it had apologised for the error.
"The board concludes that this error was an administrative oversight rather than a deliberate act," it said.
"However we recognise that this rare error meant that we failed to meet certain commitments in our Welsh language scheme.
"We very much regret this and are actively working to ensure that such errors do not occur again in future."