Wind farm noise respite call in Welsh assembly petition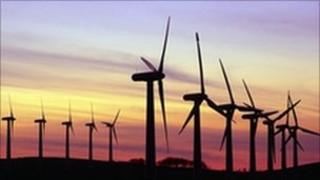 Wind turbines should be switched off occasionally so people living nearby can have some peace and quiet, urges a petition to the Welsh assembly.
More than 1,000 people have backed a call for the Welsh Government to legislate on the noise created by wind turbines.
They want "respite periods" imposed on all turbines above 1.3 megawatts.
AMs asked for more evidence about the noise posed by wind turbines and will discuss the issue again in November.
The petitioners are calling for the length of time that turbines are switched off to vary according to how close they are to individual homes and communities.
Wind farms continue to cause controversy, and earlier this month First Minster Carwyn Jones called planning decisions on large wind farms a "slap in the face" for Wales.
He has told AMs that Welsh Government planning guidance had been overruled by Westminster, raising the prospect that large onshore wind farms could be built anywhere in Wales.
Petitions
Other petitions going to the committee, which met on Tuesday morning, include one calling for a Welsh-language record of proceedings at the Welsh assembly.
Welsh translations of English proceedings were dropped from the official record of debates a year ago.
The committee noted that a decision on this issue is imminent from assembly commissioners.
Another petition called for the recording of council proceedings in Wales.
The committee again called for evidence, including whether allowing filming would bring councils in line with the assembly. It will also be discussed further in November.