Welsh Labour programme 'lacks meaningful targets'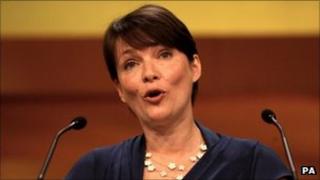 Opposition parties have rounded on Welsh Labour's government programme, claiming it lacks promised meaningful targets.
Welsh Liberal Democrat leader Kirsty Williams said without measurable targets it was "not worth the paper it's written on".
Welsh Tories and Plaid Cymru also criticised aspects of the programme.
But the first minister said his "road map" allowed people to judge whether the Welsh Government was performing.
Unveiling the document to the Senedd on Tuesday, Carwyn Jones hailed a "fresh approach" by his minority Welsh Government.
Mr Jones said annual reports, the first will be available next May, would allow people to decide whether the government was meeting big long-term challenges, such as better experiences of healthcare, higher educational achievements and a "robust" economy.
Tuesday's programme offers "indicators" to measure the government's performance between now and the next election in 2016, he said.
Voters "will be able to see those figures year after year and then they can judge".
However Ms Williams said Wales had waited 145 days for a programme of government that had turned out to be "vague and unambitious".
"I had hoped that... we would have a picture of what delivery looks like or what success looks like by 2016 so that assembly members and the people of Wales could scrutinise the Welsh Government if they didn't meet those targets," she said.
Ms Williams added: "There isn't a single figure there to tell us what success looks like.
"There isn't a single target in here that is meaningful."
She said: "Without measurable targets with comparative figures, the Labour Government's programme for government is not worth the paper it's written on".
Plaid Cymru leader Ieuan Wyn Jones described the programme, which he said had needed to be dragged out of Labour, as a missed opportunity.
"Now that we have a programme for government, it is largely a collection of meaningless generalisations with no detail or targets," he said.
Conservative leader Andrew RT Davies said some aspects of the programme were of concern, as was the track record of some ministers.
'Time for delivery'
The first minister defended the programme against the charge that it did not contain targets, saying "delivery" would be his party's watchword during a fourth term.
Labour's programme was cautiously welcomed by Welsh interest groups.
Robert Lloyd Griffiths, director of the Institute of Directors in Wales, welcomed the emphasis on new apprenticeships and on skills and education.
But using Carwyn Jones's own words he warned: "Now is the time for delivery."
Keith Edwards of the Chartered Institute of Housing Cymru welcomed the programme's approach to delivering housing solutions but said Labour's "ambitious agenda" would require all partners to "roll up their sleeves".
Tina Donnelly, director of the Royal College of Nursing, said the clear priorities detailed in the programme were "excellent".
But she added that if specialist and consultant nurse posts in vital health areas continued to be cut across Wales the programme would not be able to deliver on its health promises.