Councils to defy 'diktat' on public service reforms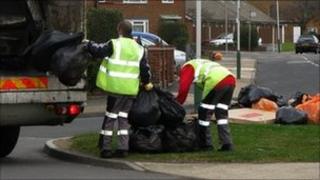 Councils are poised to defy the Welsh Government's plans to change the way public services are delivered.
Councils have been told to collaborate across six geographical areas.
But at a meeting on Friday, all 22 councils are likely to decide they will stick to their current arrangements for collaboration and snub Local Government Minister Carl Sargeant.
The Welsh Local Government Association (WLGA) said ministers should end "decrees and diktats" to councils.
The WLGA is also demanding the government sign up to a number of pledges, including no policy changes for three years, more budget flexibility and a tighter agreement about when it intervenes in councils' affairs.
Council leaders have been alarmed by the apparent willingness of ministers to send in commissioners to run departments when problems are identified.
'Confrontation'
WLGA finance spokesman Rodney Berman, the Liberal Democrat leader of Cardiff County Council, told BBC Wales there was concern at what he called the sometimes "confrontational" approach from ministers.
He said: "I think it's partly down to the personalities of the ministers in post at the moment, such as Carl Sargeant, the local government minister, also Leighton Andrews, the education minister. I think they have had a tendency perhaps to issue decrees to local government.
"What we are saying is you don't necessarily need to work with us in that manner, we are happy to collaborate with you, and let's just sit down more consensually."
Mr Berman also indicated local authorities would continue to work together as they had done in the past in areas such as education, transport and social care, rather than moving to the Welsh Government's preferred new model.
The government's plan for six service delivery areas was approved by the cabinet in July. It would see authorities teaming up to organise services within the boundaries of local health boards.
In the Senedd chamber on Tuesday, Mr Sargeant said: "To provide clarity around how public services should collaborate I have set out the footprint for service delivery.
"I expect this footprint to be the basis for future collaborative work between public services.
"The footprint provides coherence for future regional collaboration across public services and gives the clarity that local government itself has quite rightly called for."
The intervention by the WLGA now casts doubt on whether that plan will be implemented.