Welsh government 'raided reserves' claims Plaid Cymru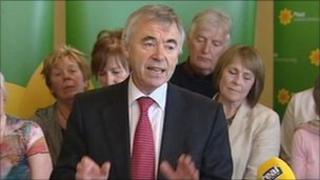 Plaid Cymru has claimed the Welsh government has "raided" its reserves in order to pay for Labour's manifesto commitments.
It follows Tuesday's publication of the draft Welsh budget for next year which means virtually all public services having to find savings.
Finance Minister Jane Hutt has put an additional £288m into the health service over the next three years, as well as additional cash for education.
However, even these increases will be more than cancelled out by inflation, and the money to fund them has been taken from the Welsh government's reserves, the pot of cash held back for unforeseen events.
It means that the Welsh government will start the next financial year with £127m, or 0.95% of its budget in reserve.
Plaid leader Ieuan Wyn Jones said: "What's happened, of course, is that they've raided the reserves to pay for their manifesto commitments, and so there's very little money left to deal with emergencies.
"We're going to face an emergency on the economy - there's going to be virtually no growth this year, very little growth again next year."
Mr Jones added: "We've got to protect our manufacturing sector, we need to keep jobs in Wales, and the only way to do that is to assist businesses and we've got to give them money to do that."
"Unprecedented times"
Ms Hutt told BBC Wales the reserves were "more than adequate" to meet the Welsh government's needs.
"I'm using every Welsh pound to effect to back business, to back our health service and public services, to back local government as well," she told Good Morning Wales.
Asked if the reserves were now less than one percent of the total budget and lower than they ever had been before she said: "I can assure you that the reserves are adequate.
"We are in unprecedented times in terms of the cuts we have had from the UK government - a six percent cut in revenue and 21 percent cut in capital this year.
"Every year the government, if it is doing its job properly here in Wales, will be spending the money from the reserves - it is about at the end of the year ensuring it is allocated appropriately."
In recent years, the Welsh government has made tens of millions of pounds available to health boards from its reserves late in the financial year to avoid them breaching their annual budgets - which they are legally prohibited from doing.
Reserves are also retained to pay for for unexpected events such as a flu pandemic or a foot and mouth outbreak.
Negotiations between the Labour, who hold 30 of the 60 seats in the assembly, and the other three parties are expected to begin soon in order for the Welsh government to win the vote to pass their spending plans on 6 December.