BMA 'realistic' despite extra cash for Wales NHS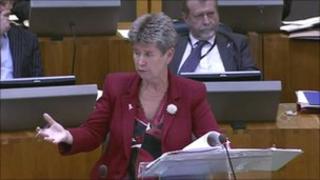 Doctors' leaders have welcomed the extra cash for Wales' health budget over the next three years but say they remain "realistic" about the cuts to be made.
Finance Minister Jane Hutt has pledged an extra £51m for the health budget next year, and a total of £239m over the next three years.
BMA Cymru Wales said NHS services were still "over-stretched and under-resourced".
The Welsh government said it had drawn up a "budget for jobs and growth".
Ms Hutt has unveiled a draft Welsh government budget worth around £14.5bn.
The budget for health, social services and children is earmarked for an 0.8% rise (£51m) to £6,287bn.
However, critics say that when inflation is taken into account, the next few years will be financially difficult for hospitals and GPs in Wales.
BMA Welsh Council chairman Dr Stefan Coghlan said doctors should be actively involved in the decision-making process over changes to the health service.
He said: "What we don't want to see is politically-led initiatives that have more to do with grabbing headlines than improving patient care.
"We aren't opposed to service change when it is driven by the needs of patients, is evidence-based, and follows the professional advice of clinicians.
"I urge NHS managers to work with clinicians and focus on identifying areas where they can truly eliminate waste and achieve genuine efficiency savings."
The Welsh NHS Confederation said the seven health boards and three NHS trusts in Wales were "already working hard to make sure that high quality, safe and cost-effective healthcare services are available to everyone".
Director Helen Birtwhistle said the extra money announced by Ms Hutt would "help progress this work and will undoubtedly benefit patients".
She added: "We must emphasise, however, that to continue to improve, the NHS needs to transform how services are delivered to patients - the status quo is simply not an option."
The Welsh Local Government Association said the draft budget showed a real term cut in local government revenue funding for 2012-13.
It called for the extra £40m availabled to the Welsh government announced by the Chancellor to be used to freeze council tax or support local council services.
Leader John Davies, a Pembrokeshire councillor, said: "While local government is doing its utmost to bear down on costs and seek efficiencies, they are facing a real terms cut in funding so without additional money freezing council tax is not a realistic option."
Oxfam Cymru said it welcomed the draft budget's emphasis on investing in jobs and skills but said the "crucial test will be whether these will help drive the green economy that will put Wales on the path to a prosperous low carbon future".
Head Chris Johnes said: "The impending changes to the welfare system and its impacts on the poorest people in Wales have also importantly been acknowledged by this budget.
"So, what we need to see now and over the coming months, is how the Welsh government aims to support the people of Wales and mitigate these impacts, for example in the much anticipated anti-poverty strategy and the reforms to Communities First."
The draft budget also sees a rise for the Education and Skills department, up 0.5% or £9.3m to £1.81bn.
Dr Philip Dixon, director of the teaching union ATL Cymru, said the £40m "windfall" coming to Wales because of the council tax freeze in England should "not be frittered away but spent on the children of Wales".
He said: "The debate over the budget and the £40m 'windfall' will flush out who are the true supporters of education and who are its real enemies."