Charity Guide Dogs asks Welsh politicians to walk blind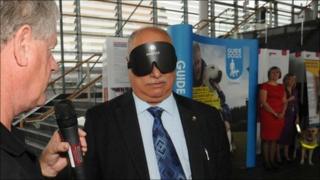 Politicians in Wales are being urged to walk a mile blindfold to find out what life is like for people without sight.
They have been asked to make the journey in their constituencies to experience the frustrations of trying to get around.
At an event in the Welsh assembly, the charity Guide Dogs invited Assembly Members to join the campaign.
It is also calling for bus companies to install audio announcements to help blind passengers.
Guide Dogs, which is marking its 80th anniversary, said more than 115,000 people in Wales had sight loss.
It asked AMs to find out how it felt to travel independently when they cannot see where they are going.
The idea of the "walk a mile in my shoes" campaign came from guide dog user Rosemary Roberts, of Newcastle Emlyn, Carmarthenshire, and the first event will be held in Newport on Friday.
Katie Roberts, of Guide Dogs, said it would allow politicians to "feel the disorientation and panic that people can feel and to actually experience first hand just how challenging it is to walk around".
"Until you have done it you can't understand how important issues like pavement layout are," she said.
The reception in Cardiff Bay heard that Newport would become the first place in Wales where new busses have audio announcements so blind and partially sighted passengers know where they are on the bus route.
Andrea Gordon, Guide Dogs' public policy manager for Wales, said: "We look to other transport providers in Wales to make that commitment in time so that blind and partially sighted people know where they are going when they take their journey."
Conservative AM Mohammad Asghar volunteered to walk blindfolded through a short obstacle course in the Senedd, using a cane to find his way.
He said: "It's a very frightening experience. When you know you can't see you are virtually relying on a sixth sense."