Cut-price school meals proposed in Welsh schools bill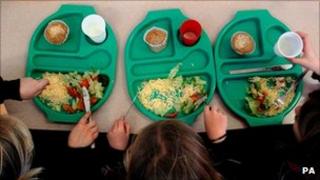 The cost of school meals could be cut for families with more than one child, under plans to change the law.
The Welsh government said the move could encourage parents to opt for school dinners for their children and help low-income families who do not qualify for free meals.
It is contained in a new White Paper on improving school standards.
Ministers also plan to stop schools and councils charging more than the cost of providing food and drink.
The Welsh government said the current legislation stopped councils from helping families with several children, by preventing them from cutting prices for the second child or from charging younger children less.
At present there is no cap on what pupils can be charged and they must all be charged the same price.
Local authorities have said they would welcome a flexible charging regime, the government said in the White Paper.
It proposes repealing the existing law so councils and schools' governing bodies have the freedom to charge different prices to different pupils.
Flexible charging would be "entirely optional and will involve a local decision to subsidise meals during the offer period", it says.
'Drive up'
Discounted meals could be offered for a limited period for new infant, junior and primary school children.
The government said it wanted to help the children of families on low incomes who are not eligible for free school meals and increase the take-up of school meals.
"Currently there is no cap on how much a pupil can be charged," a spokesman said.
"This proposed change will also prevent schools and local authorities from charging more than the cost of providing a meal or drink to pupils."
The School Standards and Organisation Bill would also change the system for intervening in schools that cause concern, for example where standards of performance are unacceptably low.
Education Minister Leighton Andrews said: "Raising standards and performance in education in Wales is absolutely critical if we are to give our children and young people the best opportunities in life.
"The School Standards Bill we are proposing will give us some of the tools to make the changes we need to see to drive up education standards in Wales across the board."
He said the bill "will help us to drive through necessary changes to the education system to deliver a better future for Wales".
Last year, Mr Andrews said a slide in Wales's international ranking for tests for 15-year-olds had exposed "systemic failure".