EU billions fail to lift west Wales and valleys economy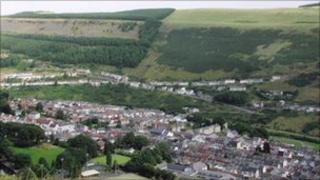 West Wales and the southern valleys have become relatively poorer, despite receiving billions in EU funding, according to figures seen by the BBC.
It is one of a handful of places to get poorer after two rounds of funding.
More than £6bn has been invested from European money and match funds from UK, Welsh and local governments.
The European Commission said figures were disappointing, but did not reflect how funds were distributed. The Welsh government has been asked to respond.
The figures were obtained by BBC Wales' Dragon's Eye programme.
Welsh Labour MEP Derek Vaughan said it was clear the earliest years of the funding, known as Objective 1, were not properly managed.
The latest official figures from the EU show that west Wales and the valleys saw their GDP drop from 66.8% of the EU average in 2000 to 64.4% in 2008, the latest year for which figures are available.
The measurement is per head of the population and is used to decide where is eligible for the structural funds that the region has qualified for since 1999.
It is calculated to include only the 15 member states of the EU when Objective 1 areas were decided. The union has since enlarged to include 27 members.
West Wales and the valleys are expected to qualify for a third pot of funding in 2013 as one of the poorest regions in the EU.
It qualified for the top level of support in 2000-06, under Objective 1 funding, and again in 2007-13, under convergence funding.
The EU figures show 66 regions received both of these funding streams, not including French regions in South America and the Caribbean.
West Wales and the valleys are joined by Malta, two regions of Portugal and four regions of southern Italy as the only areas that became relatively poorer despite the investment.
Every other region that received both Objective 1 and convergence funding got wealthier including Greece, Latvia, Slovakia and Spain.
'Bigger impact'
Mr Vaughan said it was clear the Objective 1 funds were not administered properly, though he believes improvements have been made since convergence funding in 2007.
He said: "I think there's a recognition that the first round of European funding we had perhaps wasn't spent wisely.
"The second round which we are currently in, I think things are better.
"We are funding much bigger more strategic projects, which I think over time will have a much bigger impact."
Wales had to start thinking about the third round of funding which it looked likely to qualify for, he said.
"Discussions are already taking place with the Welsh government," he said.
The European Commission said it was disappointing that West Wales and the valleys had not managed to improve their prosperity, but blamed the global economic crisis and the region's geography.