New Plaid Cymru leader will take over on 15 March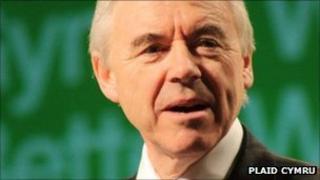 Plaid Cymru's new leader will be elected on 15 March next year, the party said on Monday.
The new leader will be handed the reins at a special event in Cardiff a week before the party's spring conference.
Nominations for the job are open between 3 and 26 January.
Current leader Ieuan Wyn Jones announced he would be standing down from the helm after a poor showing for Plaid at this year's assembly elections.
Plaid said it would hold public leadership debates for the first time, as well as internal hustings.
It announced the timetable for the leadership election on the same day it kicked off a drive to recruit new members, fronted by former leader and honorary president Lord Wigley.
Plaid chair Helen Mary Jones said: "This is an exciting time for Plaid.
"We're currently renewing our party so that we've got the best possible organisation to lead Wales forward in the coming years."
Ceredigion AM Elin Jones has confirmed she will stand for the leadership and Lord Elis-Thomas, who led the party 20 years ago, has said he intends to be among the candidates.
Mr Jones was MP for Ynys Mon from 1987 to 2001 and has been the island's AM since the first assembly in 1999. He first took up the party leadership in 2000.
May's election saw Plaid slump to 11 seats - its worst tally since the assembly was established.