Select committee chairman disputes smacking ban powers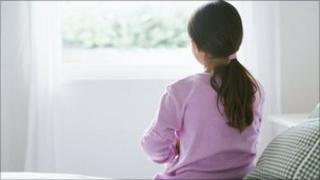 A senior backbench MP has called for clarification over whether the Welsh assembly can stop parents smacking their children.
Welsh Affairs Committee chairman David Davies said the issue should be referred to the Supreme Court if AMs vote in favour of a ban.
A cross-party group of four AMs has tabled a motion calling for legislation to change the law.
AMs will have a free vote when they debate it on Wednesday.
The four AMs are urging the Welsh government to introduce legislation intended to outlaw smacking by removing the defence of "chastisement" for assaulting a child.
If passed, the motion would not bind the government. Members of all four parties will have free votes.
The Welsh government says it wants to make physical punishment unacceptable by promoting "positive alternatives" to smacking.
The intention is to remove the legal defence of "reasonable chastisement" or "reasonable punishment".
It would mean if an allegation of hitting a child is made against an adult, there is less wriggle-room for those who might argue in defence that they had not realised they had hit the child so hard.
But it would not mean that every parent spotted giving their child a smack in public would be arrested and charged.
First Minister Carwyn Jones has said it is the view of Welsh ministers that it is possible for the assembly to amend the criminal law and "end the availability of the defence of reasonable punishment for those cases where it still applies to an offence of assaulting a child".
But in a letter to Welsh Secretary Cheryl Gillan, Monmouth MP Mr Davies says: "Although it has some competencies in fields of child welfare, it has always been understood that the assembly cannot make criminal legislation."
He says the matter should be urgently referred to the Supreme Court if AMs pass the motion, so it can decide whether the assembly has legal powers to amend criminal law.
Mr Davies, who is opposed to a ban, adds: "I am a parent myself and I believe smacking should only be used where all other methods of managing behaviour have failed or the child puts themselves in danger."
In 2008 there was a dispute with the UK government about whether the assembly's law-making system at that time could be used to give Wales the power to ban smacking.
'Fine line'
Conservative assembly leader Andrew RT Davies, who is also against a ban, said: "I'm a big believer in families having a right to bring up children and conduct their own affairs in the manner they see fit.
"There is a fine line between the state interfering in family life and obviously parents having the opportunity to exercise their own judgement in their own situation."
The NSPCC is backing the motion and said it wanted to help parents use other methods to teach their children the difference between right and wrong.
Des Mannion, the charity's head of service in Wales, said: "Clear and consistent boundaries are essential for children and young people to have a secure and happy childhood.
"But whilst we would never want to criminalise loving parents, the NSPCC believes smacking is not an effective or constructive way of dealing with bad behaviour."
Lynne Hill, policy director at Children in Wales said they believed children should have the same protection in the law as adults from assault.
"Clear and consistent boundaries are crucial in childhood, but parents do not need to resort to physical punishment," she said.
"Positive non-violent parenting encourages better behaviour, whereas smacking teaches children that violence is acceptable.
"Although it may initially stop a child misbehaving, research has shown that it does not make them behave better in the longer term, so the child is smacked again."
One of the AMs tabling the motion, Welsh Liberal Democrat leader Kirsty Williams, said: "The basic premise is simple: the law protects adults from being struck by another human being; I want nothing less for children."
She has brought the debate to the Senedd chamber with Labour AMs Christine Chapman and Julie Morgan, and Plaid Cymru AM Lindsay Whittle.
A Welsh government spokesman said: "This government is committed to work to make physical punishment of children and young people unacceptable through the promotion of positive alternatives and we believe this is the best place to start."
A Wales Office spokesperson said: "There are no firm proposals at present for the assembly to legislate to impose a prohibition on smacking.
"The government will await the outcome of the vote and any proposals which subsequently come forward."