'Flexible GP hours are no extra cost' says Carwyn Jones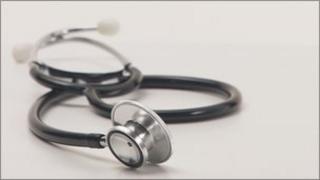 A pledge to make it easier for patients who work to get appointments with their GPs will come at no extra cost, First Minister Carwyn Jones has said.
GPs will not need to work longer and will instead be asked to "re-jig" their hours, he added.
At question time in the Senedd, opposition leader Andrew RT Davies accused Labour of pursuing policies that "aren't thought through".
But Mr Jones said his government's policies were "well costed".
The Welsh government says it will make GP services more accessible to working people, reducing pressure on hospital A&E departments.
'Flexible'
The first minister said: "There is no cost to GPs' opening hours.
"All we are asking them to do is to re-jig their hours to provide a better service to the people they service.
"And I think that's absolutely crucial. We are not suggesting GPs should work longer hours or more hours. The same hours, but making sure they are more flexible."
He said demands from the Conservatives' assembly leader for more money for the NHS and business rates showed he was "living in cloud cuckoo land".
Doctors say that although they may not need more money, they might have to pay their staff overtime to open surgeries outside working hours.
Conservative leader Mr Davies said the proposal, together with providing health checks for the over 50s, have much to commend them but the government had not explained the cost.
He said: "You are really trying to tell the chamber that there is no cost implications for increasing GP opening hours and re-negotiating, in fact, the GP contract?"
He cited a report by the Wales Audit Office which last week said the NHS faced a tougher financial settlement in Wales than the rest of the UK.
"Is it not the case that both these policies were worked out on the back of a fag packet and you really have no idea a) how you will implement them and b) when people might benefit?" he said.
'Responsible way'
Plaid Cymru leader Ieuan Wyn Jones urged the first minister to "be completely honest" about changes to the NHS.
He said the government had acknowledged in its spending plans that the only way to stay on budget was by transforming the health service.
He said: "So in a way they are not clinical reasons that will drive this, they are financial reasons and you have said that for the first time in your document."
The first minister said the government had set up the National Clinical Forum to provide professional opinion on what the structure of the health service should be, adding: "I think that's the responsible way of approaching this."
Welsh Liberal Democrat leader Kirsty Williams challenged him about why the economic performance of west Wales and the southern valleys had not improved despite billions of pounds of EU funding.
Mr Jones said there was "no question" that Wales was better off, but there was "still some way to go" to catch up with the rest of the UK.