Wales to ban cigarette machines from February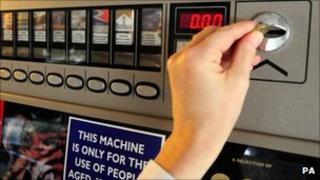 A ban on the sale of cigarettes from vending machines in Wales has been given a final approval by the Welsh government.
It is already in force in England but legal challenges there affected timings in Wales, according to officials.
The ban will come in force in Wales on 1 February 2012.
The health minister said action was being taken as part of a wider effort to stop young people from starting to smoke.
"A voluntary code has not been effective in sufficiently restricting young people's access to tobacco from vending machines," said Lesley Griffiths.
BMA Cymru Wales secretary Dr Richard Lewis welcomed the ban, saying smoking is one of the biggest public health challenges facing Wales today.
3,000 machines
"We hope to see a similar ban on shop displays of cigarettes shortly," he said.
"It is a real opportunity to help protect children from a lifetime of addiction and the associated diseases that go hand in hand with smoking."
From 1 October pubs, clubs and restaurants in England which use cigarette vending machines have faced fines of £2,500.
According to research, 10% of regular smokers aged 11 to 15 get their cigarettes from vending machines, compared with 1% of all smokers.
The Protection from Tobacco (Sales from Vending Machines) (Wales) Regulations 2011 starts from 1 February.
It will be regulated locally by council trading standards officers.
The government estimates there are roughly 3,000 cigarette vending machines in Wales.