Labour peer calls for jobs focus 'not smacking debate'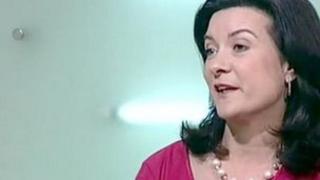 Welsh assembly members should concentrate on creating jobs instead of discussing whether to ban parents from smacking their children, a Labour peer has said.
Baroness Morgan of Ely said her party needed a better relationship with the business world.
Some Labour members were "suspicious" of the private sector, she said.
She was delivering a lecture in memory of the broadcaster and journalist, the late Patrick Hannan.
At a time when the economy is dealing with a "jobs crisis", former MEP Eluned Morgan said some members of her party needed to "move on" from their hostility towards the business world.
That was understood when Tony Blair came to power, she said, "but Labour in Wales didn't quite move in the same direction".
"In Wales I think we have to re-define our relationship, in particular at this time, because there is no other choice, if we want to create jobs in Wales," she said in an interview with BBC Wales' Politics Show.
Declining investment from outside Wales showed job creation should be the top priority for all parties, not just Labour AMs and ministers, she said.
"We are being distracted by things which shouldn't be having the attention they are having," she said.
'Time of crisis'
"We spent a lot of time this week discussing smacking children.
"Of course it's an important issue, but at a time of crisis when actually there is a question about whether that will follow through I think it's about really spending time making relationships and really courting the private sector to make investments in Wales.
"That is not being done to the extent that it should be done."
She added that Labour should use its trade union allies to "help us to identify who the good businesses are" so they can be nurtured to create work.
On Wednesday the assembly voted in favour of a ban on smacking children, but there is little prospect of a change in the law. The vote was not binding on the Welsh government which has ruled-out introducing legislation before the next election in 2016.
Baroness Morgan was the youngest member of the European parliament when she was elected to it in 1994 aged 27. She took up a job in the energy industry promoting low carbon energy after standing down as an MEP in 2009 and joined the House of Lords this year.
She was speaking to BBC Wales at the National Library of Wales, Aberystwyth, where she delivered the first BBC Radio Wales Patrick Hannan Lecture.
The Patrick Hannan lecture is broadcast on BBC Radio Wales at 13:00 BST on Sunday 23 October