EU: Monmouth MP David Davies 'voted with conscience'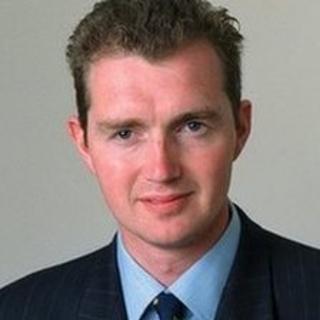 The only Welsh Conservative MP to join a backbench rebellion supporting a call for a referendum on EU membership says he voted with his conscience.
Monmouth MP David Davies defied a three-line whip by Prime Minister David Cameron for Tories to reject the idea.
He was the only one of eight Tory MPs representing constituencies in Wales to do so.
"I just feel powers should be taken away from Brussels and brought back to London," he told BBC Wales.
The motion was defeated by 483 votes to 111, after all Tory, Lib Dem and Labour MPs were instructed to oppose it.
The other seven Welsh Conservatives all voted against the motion.
The five-hour Commons debate on the issue was prompted after a petition was signed by more than 100,000 people
Mr Davies told BBC Radio Wales: "It was the public who came to the MPs and said 'we want you to discuss this issue'.
"When we joined the European Union we were joining a trading arrangement and I think most people are in favour of this.
'Give a lead'
"What we did not sign up to was the idea of ever greater federal union - I think people are angry at this."
He denied the scale of the rebellion was an embarrassment to Mr Cameron.
"I don't think it's embarrassing that Members of Parliament are willing to vote in the way that they think they should vote and vote with their conscience rather than doing something that might be a bit better for their political careers.
"I think David Cameron will be going off to Europe this week knowing just how strongly Members of Parliament feel."
Speaking after the vote Mr Cameron said he knew people felt strongly but he had to give a lead on the issue.
But he said there was "no bad blood" towards Conservatives who backed the biggest rebellion on Europe against a Conservative PM.