Carwyn Jones: 'No money pot,' amid budget support plea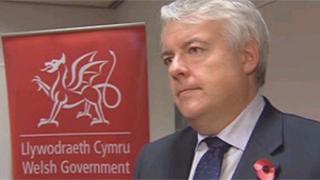 First Minister Carwyn Jones says he has "no magic pot of money" for the Welsh economy after opponents criticised Labour's record since May's election.
He appealed for an agreement on the Welsh government's budget, promising money for skills and jobs.
It comes amid a war of words with opponents over help for the economy.
Mr Jones was speaking before meeting business leaders at the Council for Economic Renewal in Cardiff to discuss how to kick-start the economy.
His government is at pains to point out what it is doing to stimulate growth, while opposition parties claim it has not done enough since being re-elected.
Despite cuts imposed by the Treasury, Mr Jones has insisted Labour is using its capital budget to invest £1.3bn in infrastructure this year.
Mr Jones said an announcement on spending a further £39m to help the economy depended on getting an agreement on the Welsh budget.
Without a majority in the assembly, Labour needs the support of at least one opposition AM to approve its spending plans. They are due to be discussed in the Senedd next week.
Mr Jones said: "We can't make detailed announcements until we get an agreement on the budget. It's part of that negotiation."
Plaid Cymru has claimed that Labour has sat back while unemployment climbs and growth remains sluggish.
Plaid leader Ieuan Wyn Jones has said a list of projects released by the Welsh government contained schemes announced by the previous Labour-Plaid administration, which was in coalition until May's assembly election.
At the weekend, Conservative assembly leader Andrew RT Davies accused the Welsh government of being "economically illiterate".
Deeper cuts
Speaking to journalists on Wednesday, the first minister said: "This is part of the huff and puff of politics.
"As a government we don't have that luxury."
He said there was very little room to manoeuvre in the budget - worth about £14.5bn - with reserves pushed as low as they can go.
Boosting spending in one area will mean deeper cuts elsewhere, he said.
"There's no magic money pot."
Money for the business department is understood to be a key part of talks with the opposition as the minority Labour administration tries to get its budget approved.
Labour peer and former MEP Baroness Morgan of Ely last month said her party needed a better relationship with the business world and that some Labour members were "suspicious" of the private sector.
Meanwhile, CBI Wales director David Rosser has been seconded to the Welsh government's department for business, enterprise, technology and science.
He will work for six months as director of innovation and anchor companies.
Mr Rosser said: "Businesses recognise the role of the Welsh government in creating a competitive environment, and increasingly companies feel they have a lot to contribute in return.
"There is a real opportunity to create a powerful alliance and it is great to be able to help deliver that."
Business Minister Edwina Hart said: "His experience will ensure this work is private sector-led and business-focused."
For the Conservatives, Nick Ramsay said the Welsh government had been "slow in bringing forward any substantive measures to encourage growth in the Welsh economy, which is already the poorest of all the UK nations".
He called for more detail on the creation of enterprise zones to nurture businesses and for a freeze on council tax.