Carwyn Jones writes to David Cameron over vote change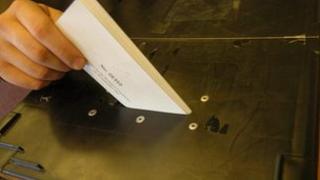 First Minister Carwyn Jones has written to the prime minister to seek assurances the assembly's electoral system will not be changed without the agreement of the Welsh people.
There is speculation changes could be made to match reforms in Westminster.
Meanwhile, the Electoral Reform Society says electing all AMs via the first-past-the-post system would "disproportionately" favour Labour.
Labour said the society had "misrepresented" its position.
The Electoral Reform Society (ERS) says scrapping semi-proportional elections would deny thousands of voters a voice.
At present, 40 AMs are elected in first-past-the-post contests and 20 are elected from regional lists.
Labour has looked into potential changes in the wake of UK government plans to cut the number of MPs from 40 to 30.
The party says it opposes reducing the number of assembly constituencies to match the boundaries of new parliamentary seats.
But if changes are forced through, it would favour replacing the current system with 30 two-member constituencies, with all AMs elected by first-past-the-post.
It has been confirmed that Mr Jones wrote to David Cameron last week to insist the electoral system for the assembly is not to be changed without a mandate from the Welsh people.
A Wales Office source denied Mr Jones had by-passed Welsh Secretary Cheryl Gillan, saying the two had discussed the matter.
Mr Jones is yet to receive a formal reply, but it is understood the prime minister has given a verbal agreement that there will not be any changes without further consultation and that Wales will keep its 60 assembly members.
'Damage democracy'
A report for the ERS by academics at Aberystwyth University's Institute of Welsh Politics looks at what the results of May's assembly election could have been under different voting systems.
It says that under the system proposed by Labour, the party would have won 11 more seats - 41 instead of 30, giving Labour 70% of the Senedd on 42% of the vote.
Steve Brooks, Wales director of the Electoral Reform Society, said: "While this may be good news for aspiring Labour candidates, it's bad news for Welsh voters.
"Two member first-fast-the-post would rob thousands of voters of a choice and voice."
He said the Conservatives, Plaid Cymru and the Liberal Democrats would have less than a third of seats, despite getting more than half the votes in May.
"That would be damaging for democracy and damaging for devolution," he said.
The report's authors Roger Scully and Owain ap Gareth say that if assembly and parliamentary boundaries are "decoupled", they would favour having 80 AMs elected through the single transferable vote (STV) - something recommended by the cross-party Richard Commission into devolution in 2004.
The ERS said that, in general, STV was its preferred electoral system.
A Labour spokesman said the society had "misrepresented" the party's position.
"And our position is crystal clear - the Tories in Westminster have no mandate for changing the electoral system in Wales," he said.
"That is our 'preferred option'. It is a great shame that instead of supporting calls for Welsh people to be asked beforehand on any change to their voting system, the ERS have instead decided to issue a bizarre statement that is patently untrue and disturbingly skewed."
A party source said two-member seats had never been used in assembly or Westminster elections so it was impossible to predict how people would vote. Some chose to split their votes between parties in multiple-member council wards at local elections, he added.
A UK government source said any decision on the assembly's electoral system was a "long way off" and that Mrs Gillan was considering a number of options.
"We will have to respond to a cut in the number of MPs, but that response may be to do nothing," he said.
"Our aim will be to move forward on this issue in due course on the basis of consensus."