Conservatives spent £283,000 at 2011 Welsh election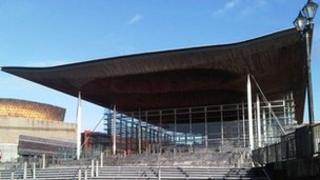 The Conservatives outspent Labour by £130,000 at May's assembly elections.
The Tories were by far the biggest spenders, throwing more than £283,000 at their campaign.
They came second in the election, winning 14 of the assembly's 60 seats. Labour, who won 30 seats, spent £153,000 on the campaign.
Plaid Cymru won 11 seats after spending £173,000 and the Liberal Democrats, who won five seats, spent £114,000
Figures from the Electoral Commission show political parties spent a combined £869,000 on this year's assembly elections between 6 January and polling day on 5 May.
The watchdog published the Conservatives' spending later than the other parties because it exceeded £250,000.
Kay Jenkins, head of the Electoral Commission's office in Wales, said: "Transparency in the democratic process is hugely important and part of this is ensuring that voters can see how much was spent campaigning at these elections.
"This information now completes the picture on campaign spending at the National Assembly of Wales elections."