Simon Thomas joins contest for Plaid Cymru leadership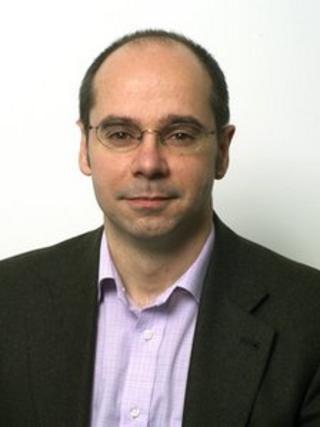 Plaid Cymru assembly member Simon Thomas has said he wants to run for the leadership of the party.
The Mid and West Wales AM said if successful, he would prepare the party for the "long haul back to government".
He will seek nominations for the job when the party starts looking for candidates in the new year.
Current leader Ieuan Wyn Jones revealed he would be standing down after a poor showing by Plaid at May's assembly election.
Mr Thomas said that as leader he would listen and respond to party members, and promised "meaningful consultation" with all sections of Plaid.
"I would want to lead in an inclusive and participative way," he said.
"I intend, if leader, to consult with those who I will have to lead in the Senedd chamber before giving a clear vision for my party and for my nation.
"A new leader must not only renew the party, but restore Plaid Cymru as a real choice as a party of government for the Welsh people."
Before being elected in May, Mr Thomas, 47, was an adviser to the Welsh government during Plaid's coalition with Labour. He was previously the MP for Ceredigion.
Speaking at a briefing at the University of Glamorgan's Atrium in Cardiff, he said: "Clearly our message is not getting through.
'Daily difficulties'
"Sometimes it is confused. I support independence as the constitutional aim for Plaid Cymru and our nation.
"But independence is not the answer to today's immediate problems and focusing on arguing about it only encourages the voters to assume we are not addressing their daily difficulties."
Ceredigion AM Elin Jones has said she wants to stand and Lord Elis-Thomas, who first led Plaid in the 1980s, has been endorsed by his local party.
South Wales Central AM Leanne Wood is mulling over whether to launch a leadership bid.
The new leader will take over at a special event in Cardiff in March.
Nominations for the job are open between 3 and 26 January.