First Minister Carwyn Jones dithering, claim opposition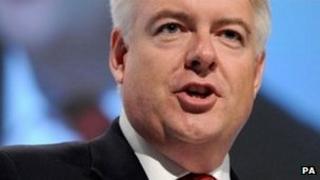 First Minister Carwyn Jones has faced claims that he has failed to act since being returned to office in May.
Just one piece of legislation has been tabled since a referendum to boost law-making powers in March, Conservative assembly leader Andrew RT Davies said.
Plaid Cymru leader Ieuan Wyn Jones said Labour had not grasped the scale of an economic crisis.
But Carwyn Jones said Plaid had sided with the Tories to oppose Labour's "budget for jobs and growth".
At the final question time of the year, he was also grilled about the comments of an adviser to the Welsh NHS who warned that without reform poorer people could be left in a "dark hole" with their health deteriorating.
Tory opposition leader Mr Davies told the first minister that legislation "was not the only area which your government has been slow to act on".
"All you seem to be doing is reviewing, dithering and delaying," he said.
The first minister was "like the proverbial bad workman - blaming their tools for doing such a poor job".
Mr Jones said the government had published a "detailed" legislative programme of bills that will be brought forward before the next election in 2016.
Small businesses were in line for £55m of government support and £1.4bn was announced on Monday for school buildings, he added.
Referring to a review of UK-wide pay settlements for the public sector, Mr Jones claimed Conservatives in Westminster wanted to cut the pay of nurses in Wales.
The first minister said that despite asking repeatedly, the Treasury had been unable to say what difference last week's autumn statement from the Chancellor will make to Welsh government spending.
'Astonished and surprised'
But Plaid leader Mr Jones said that although Wales had been hit by big budget cuts, there "hadn't been much evidence" of Labour's promise to stand up for the nation.
"I've been astonished and frankly surprised by your government's failure to grasp the enormity of the crisis facing us," he said.
The first minister hit back with a jibe over the Welsh government's budget that is expected to be passed on Tuesday with the support of the Liberal Democrats.
"I can promise I will take every opportunity, as will my party, to remind the people of Wales that when the chips are down Plaid will side with the Tories," he said.
Welsh Lib Dem leader Kirsty Williams referred to comments by health expert Professor Sir Mansel Aylward who said at the weekend that he was "depressed and disappointed" at the limited progress made in changing the health service.
This was not the first warning of its kind, she said.
Mr Jones said he did not agree. The NHS was providing an "excellent service" and Wales had a "fine record", he said.