'Confrontational' Jones demands clarity on Welsh money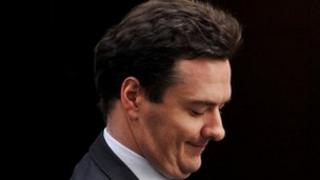 The first minister has accused the UK government of not revealing how much funding Wales can expect as a result of changes to spending in Westminster.
Carwyn Jones said the Welsh government still had not learned whether it would be getting extra revenue from last week's autumn statement.
Mr Jones has written to Welsh Secretary Cheryl Gillan.
But a source close to her criticised Mr Jones' "highly confrontational posture".
The Welsh government is in line for an additional £216m of capital funding for infrastructure thanks to the statement - although its capital budget has already suffered a big hit from the UK-wide spending squeeze.
But the Labour Welsh government said that eight days after Chancellor George Osborne's statement it still has not been told what the implications are for its revenue funding, which covers day to day spending.
Mr Jones confirmed he had written to Welsh Secretary Cheryl Gillan asking for "urgent clarification on how much money is due to Wales".
'Deepest worries'
He said: "The chancellor's statement last week confirmed our deepest worries on the UK government's approach to the economy - growth has stalled and families across Wales are being financially squeezed.
"It has now been eight days since the chancellor revealed his autumn statement and we are no clearer on how his plans will affect the Welsh government's budget."
A Whitehall source said Mr Jones' "confrontational" attitude was disappointing.
"The Welsh government is already receiving £216m extra in capital expenditure as a result of the autumn statement," he said.
"Final additional allocations to the devolved administrations will be announced once Whitehall departmental budgets have been confirmed with the Treasury.
"It's highly regrettable he (Mr Jones) should seek to conduct negotiations with the government through the media on this issue.
"He appears to be adopting a highly confrontational posture instead of being willing to work with us to improve the lives of everyone in Wales."