New-look blue badges free for disabled drivers in Wales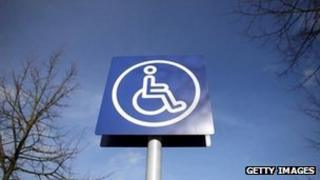 Disabled drivers will get blue parking badges for free, the Welsh government has announced.
It said an improved design would make the badges harder to forge.
In England and Scotland local councils can charge up to £10 and £20 respectively.
But the National Union of Journalists (NUJ) reacted angrily to a proposal to pay for the scheme by scrapping compulsory newspaper adverts that warn motorists about road works.
Government sources acknowledge the idea would be controversial if it deprives newspapers of a source of valuable advertising income.
The government said more than £1m a year is spent placing traffic regulation orders in local newspapers.
Changing the law would allow the government and other traffic authorities the "flexibility" to decide how to warn the public about road works, according to a government consultation paper.
It says that "on balance" it should be up to traffic authorities to decide if local newspaper adverts are the most suitable and cost-effective way of reaching motorists.
Badges currently cost £2. There are about 230,000 in circulation in Wales.
Transport Minister Carl Sargeant said the decision to not impose a fee on the new badges was part of a commitment to tackle poverty.
Impairments
"To do this I am reviewing spending and looking for efficiencies in all areas - for example I am currently consulting on options that may deliver efficiencies in the way in which we publicise traffic orders," he said.
The proceeds will allow the government to provide councils with funding to cover the increased cost of the new badge.
Mr Sargeant added: "Disabled people in Wales are almost twice as likely as non-disabled people to live in low income households and they face extra costs related to managing their impairments which could push individuals further into poverty."
Local authorities will be able to charge up to £10 for an organisational badge and lost badges.
Other improvements include plans to tackle abuse of the scheme which the government says can have severe implications for genuine badge holders.
Severely injured war veterans and children under three who need bulky medical equipment are also entitled to badges.
'Serious blow'
Ken Smith, chairman of the NUJ in Wales, said it was "astonishing" that the government had proposed scrapping adverts on road works while a cross-party group of AMs were holding an inquiry into the media.
"We are supportive of the idea of helping disabled people in the way suggested, but there must be better ways of funding such a scheme," he said.
"If local authorities are no longer obliged to advertise traffic orders in newspapers and the revenue is lost, it will be a very serious blow.
"The union has no doubt that if this is allowed to happen, jobs will be lost and the survival of titles put in doubt."
Dr Andy Williams, of Cardiff university's school of journalism, said newspapers had seen income from advertising decline in recent years.
"At the moment things are looking pretty bad for the regional and local press in Wales," he said.
"It's going to be a significant loss for an ailing industry and it's going to impact badly."