Jones claims Wales suffering 'chicanery' after funding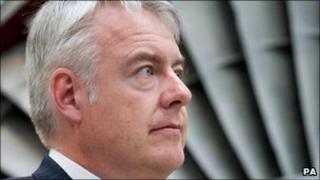 The first minister has escalated a war of words with the UK government over funding after he said Wales was the victim of "financial chicanery".
The Welsh government will get an extra £22m as a result of the chancellor's autumn statement.
But Carwyn Jones said Scotland appeared to be doing better.
A source said the UK government was "hacked off" by the "constant complaining" from Labour ministers in Cardiff.
The £22m of revenue funding announced on Thursday is accompanied by an extra £216m to spend on infrastructure.
The money will go into the Welsh government's annual budget of around £14.5bn between now and 2015.
But at an end-of-term press conference on Thursday, Mr Jones said Scotland was getting more, despite cuts to areas such as policing that are devolved to Edinburgh.
"There's some financial chicanery going on here and we want to get to the bottom of it," he said.
He criticised the UK government for taking eight days to reveal the implications of the autumn statement. "That's never happened before," he said.
'Good deal'
Welsh Secretary Cheryl Gillan said Wales was getting a "good deal".
A 1% limit on public sector pay increases was tough but fair, she said.
"This is positive news and I welcome the additional funds that Welsh government will receive as a result of the measures announced in the autumn statement," she said.
Responding to Mr Jones' complaints, a Whitehall source said: "We're now pretty hacked off with the first minister and his colleagues constantly complaining they haven't got the money for this or the powers to do this.
"They have got the money - they've got £15 billion to spend. It's time the first minister stopped behaving like an opposition politician, showed some guts and leadership and got on with his job.
"We're heartily fed up with all this now"
He said the funding formula which determines changes to the budgets of the devolved administrations had been applied "in exactly the way it has always been - including by the previous government".
Also on Thursday, Mr Jones said he saw no prospect of forming a coalition in the assembly where Labour has 30 of the 60 seats.
The arithmetic in the Senedd makes the Welsh government dependant on the votes of opposition AMs to approve spending plans and pass legislation.
A deal over the budget, voted through on Tuesday with the help of the Liberal Democrats, shows Labour is sticking to a pledge to talk to other parties, the first minister said.
Asked if he would look for a coalition partner before the next election in 2016, he said: "I can't see that happening."