2011: A year of major political changes for Wales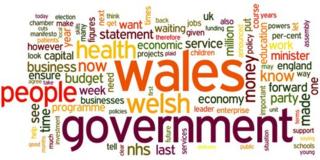 From referendums to budget belt tightening, 2011 has been a momentous year. Political reporter Daniel Davies looks back over an eventful 12 months for Welsh politicians.
This diagram might give you an insight into what has occupied the minds of Wales' politicians in 2011.
It is a word cloud of all the exchanges between opposition leaders and First Minister Carwyn Jones at his weekly question time in the Senedd since May.
The word government looms large, which is fitting for a year that brought big changes to the way Wales is governed.
Voters gave a resounding Yes to a primary law-making assembly at the referendum in March.
The assembly barely squeaked into existence in 1998 when Wales said Yes to devolution by 6,721 votes.
This year, the margin in favour of more devolution was 219,752, with all but one county - Monmouthshire - backing change.
But if the referendum result shows waning opposition to devolution, it might also be said to reflect growing political apathy.
Fewer people voted Yes in 2011 than in 1997. Turnout fell from half to 35%.
But Yes vote campaigners can claim the result shows the assembly is now accepted as part of Wales' political landscape.
Perhaps that's why Mr Jones changed the name of the administration he heads from Welsh Assembly Government to Welsh government. The subtle name change is supposed to end the confusion between Wales' legislature and executive.
You won't have to peer too far into the cloud for reminders of what a turbulent year this has been for the economy. The year's final batch of official statistics showed unemployment is continuing to rise.
And you might be able to spot the words budget and cuts - two themes that dominate politics in our age of austerity.
There's no avoiding the word health. Hardly surprising - it has arguably been the policy area that has attracted most attention during the first 12 years of devolution.
Swallowing some 40% of Welsh government expenditure, arguments about how to pay for health and social care have taken up a lot of time in the assembly this year.
The Conservatives want spending pegged to inflation, but Labour says doing so would hurt other departments that are already feeling the pinch of cuts imposed by the Tory-Liberal Democrat coalition in Westminster.
Big winners
The other big ticket item for the Welsh government is education, which gets a mention in our word cloud. There have been major changes for the education system this year. A slew of damning reports culminated in a speech by Education Minister Leighton Andrews in February where he said that "classrooms are not delivering for our young people".
By the end of the year he had introduced a banding system that allows parents to compare how schools are performing.
Schools were the big winners in a budget deal that emerged after weeks of behind-the-scenes talks between Labour and the opposition during the autumn and early winter.
Without a majority of seats, the government needs the help of its opponents to ratify spending plans.
Mr Jones eventually reached a deal with the Liberal Democrats, which guarantees more money for the poorest pupils - a process that could set the blueprint for the next four years.
Successfully passing a budget means Mr Jones has passed his first test of governing without a majority, but there will be many more tests if he is to survive until the next election in 2016.
The Welsh Labour leader was determined to push on without a coalition partner when he narrowly missed out on the majority he craved at May's assembly election.
Eurozone crisis
He kept his job as first minister, but the election called time on two other political leaders.
Former Tory Welsh assembly leader Nick Bourne lost his seat when a quirk of the electoral system meant he paid the price for his party's success. New leader Andrew RT Davies won a closely fought contest to succeed him.
Plaid Cymru leader Ieuan Wyn Jones's exit is less abrupt. He will hand over the reins in 2012 following disappointing results for his party this year.
There is no shortage of material available for anyone compiling a review of 2011.
Revolutions toppled regimes in the middle East while the eurozone crisis toppled a government in Italy.
The UK has toasted a royal wedding and recoiled at rioting in the streets.
And in Wales the tragedy at the Gleision mine gave us an unwelcome reminder of our industrial past.
Against such a momentous backdrop, it might be difficult for Welsh politics to get a look in.
But when it comes to the history books of devolution, 2011 will be remembered as an important year.