Mohammad Asghar sorry for lobbying for wife after councillor's death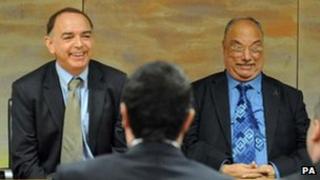 A Welsh assembly member has apologised for asking fellow Conservatives to support his wife in a vacant council seat two days after the incumbent died.
South Wales East AM Mohammad Asghar emailed Tories in Newport urging them to consider his wife Firdaus as a candidate for the Allt-yr-yn ward.
A city councillor who received the email said he had behaved in "very bad taste" after the death of Les Knight.
The party said he apologised for any offence caused by his "untimely email".
Mr Asghar - known as Oscar - sent an email on Tuesday following the death of Mr Knight, a veteran Conservative councillor, on Sunday.
It said: "I am very sad about Councillor Les Knight although it seems that things are already moving on in terms of the Allt-yr-yn seat.
"I would be very grateful if you could consider Firdaus Asghar to stand in the elections from Allt-yr-yn.
"I am sure you are aware that Firdaus has lived in the ward for more than 20 years and worked closely with Coun Knight on many constituency matters."
Tory councillor Peter Davies, who represents a neighbouring ward, said he replied to the email saying Mr Knight - who was first elected to the local council in the 1960s - had been a friend for more than 30 years.
"Asking for somebody to support a new candidate was in very bad taste," Mr Davies said.
"I have never heard of anyone political call for candidates to be supported in a by-election before the former incumbent of the seat has actually been buried."
The leafy Allt-yr-yn ward is also represented by the council's Tory leader Matthew Evans.
A Welsh Conservative spokesman said: "Oscar is very upset at the loss of Les Knight who was one of his closest friends.
"Oscar has apologised for any offence he may have caused through his untimely email.
"Oscar has confirmed that his wife will not be seeking election in the forthcoming local government elections."
Mr Asghar was elected to the assembly as a Plaid Cymru AM in 2007, but defected to the Tories in 2009.