WJEC examiner Paul Barnes treated unfairly, MPs told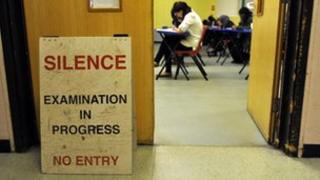 An examiner who was suspended after newspaper claims he gave teachers advice about exam questions says he was treated unfairly.
Paul Barnes, chief examiner at the Cardiff-based WJEC exam board, said he did not break rules at a seminar secretly filmed by the Daily Telegraph.
He was giving evidence to an MPs' committee.
WJEC has said an investigation into the claims against its examiners found exams have not been compromised.
Mr Barnes appeared at the Commons' Education Select Committee at Westminster alongside Paul Evans, a second WJEC examiner suspended after allegations made by the Telegraph.
Last week the paper said it had filmed an examiner telling teachers at a paid-for seminar on GCSE history which questions to expect.
'Guidance'
Mr Barnes said: "The aim of the seminar in London was to actually give retrospective advice on the 2011 paper, provide future guidance and really to equip teachers with an understanding of the new specification.
"It's my belief that my comments were first of all edited and taken out of context."
The Daily Telegraph's claims led to "an in-depth internal investigation" at WJEC.
The board said teachers at its GCSE training course would not have benefited unfairly from the advice they received.
The investigation into an upcoming history exam found its "security and integrity" had not been compromised by the examiners' comments.
It said the information given to teachers was available on its website, but added that the wording used by examiners was "unacceptable and inappropriate."
Welsh Education Minister Leighton Andrews has ordered a separate review into the market qualifications.
It will look at possible alternative systems for GCSEs and A levels, including whether there should be one provider instead of allowing schools to choose between competing exam boards such as WJEC.
Gareth Pierce, chief executive of WJEC, later told the MPs the information filmed by the Daily Telegraph regarding the "cycle" of exam questions - which topics would be set each year - was already in the public domain.
Mr Pierce said: "The concern to me, from the Daily Telegraph reporting of the GCSE history event, is to do with tone, language... unacceptable language and tone. The content, the message behind that was, in fact, correct."
The newspaper's recording appeared to show a WJEC examiner saying: "We're cheating, we're telling you the cycle. Probably the regulator will tell us off."
Mr Pierce said: "I don't understand the need for that language and tone."