Former Plaid MP Adam Price claims party 'faces extended opposition'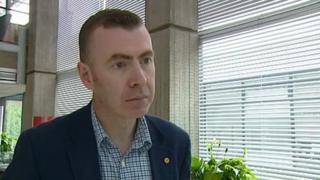 The former Plaid Cymru MP Adam Price has all but written off his party's chances of gaining power after the next assembly election, warning it faces "an extended period of opposition".
He urges the four candidates for the Plaid leadership to have independence in their long-term plan for the party.
To deny this, he says, would be "an act of self-immolation" for the movement.
Mr Price does not back any candidate but supports AM Elin Jones' suggestion of an independent Wales by 2036.
Mr Price is now a research fellow at the Kennedy School of Government at Harvard made his comments on the online commentary site WalesHome.
But he also warns that, despite fighting every election to win, Plaid is facing an "extended period of opposition" going as far as to say that it should use the next nine years as an opposition party in order to "challenge Labour's hegemony".
'Visceral hatred'
He discounts any possibility of another deal with Labour along the lines of the 2007-2011 One Wales coalition between the two parties. The next assembly election is due to be held in 2016.
He says: "Of course each party needs to fight each and every election to win. But the reality is that we are probably facing an extended period of opposition.
"Labour's visceral hatred of everything we stand for means inevitably, as we saw during the Budget negotiations, that the Liberals, even while stained by the Tory collaborationist tag, will always be their preferred partners. There will be no One Wales two."
He adds: "By 2020, Labour will have been in power for 21 years. This seems to me to be the ideal time for us to mark the maturing of Welsh democracy through the election of a non-Labour alternative.
"The period out of power over the next nine years needs to be seen as a historic opportunity to challenge Labour's hegemony."
Four candidates have announced their intention to stand for the Plaid Cymru leadership - Lord Dafydd Elis Thomas, Elin Jones, Simon Thomas and Leanne Wood.
'Serial failure'
A Plaid Cymru spokesperson said over the last few months, they had reached out to people across Wales and have listened to what people told them about their ambition and hopes for the nation.
"Rather than settle for status quo, the vast majority of people clearly want to see Wales having greater control over its own destiny," said the spokesperson.
"People would clearly prefer decisions which affect our economy, our environment and the safety of our communities, to name just a few examples, to be taken here in Wales rather than by a remote, often hostile government in Westminster.
"Plaid believes that together, we can plan for a better future for our country. And as Adam rightly says, through our process of renewal, we will ensure that our party articulates clearly and effectively our vision for independence and how that will lead a better, more successful Wales."
Responding to Mr Price's article, a senior Welsh Labour source said: "In politics, there's nothing like ambition to rally the troops and what Adam Price has articulated in his article, is nothing like ambition.
"There's a developing narrative at the top of the Plaid hierarchy that insultingly suggests the people of Wales somehow don't "get" their position on independence.
"However, the party's serial failure at recent elections suggest otherwise.
"The fact is, voters "get" Plaid perfectly well - they choose simply not to agree with them."
Plaid's current leader Ieuan Wyn Jones revealed he would be standing down after a poor showing by Plaid at May's assembly election.
The four who have said they want to stand for the leadership are: Leanne Wood, AM for South Wales Central; Ceredigion AM Elin Jones; Simon Thomas, AM for Mid and West Wales; and Lord Elis-Thomas, who first led Plaid in the 1980s.
The new leader will take over at a special event in Cardiff in March.
Nominations for the job are open between 3 and 26 January.