Welsh and Scottish leaders demand Cameron meeting on EU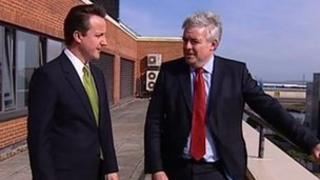 The first ministers of Wales and Scotland have requested an urgent meeting with the prime minister after his decision to veto EU treaty changes.
Carwyn Jones and Alex Salmond said the devolved administrations had been excluded from decisions on European matters.
In a joint letter, they told David Cameron they were "deeply concerned" about his use of the veto.
Mr Cameron has said his actions were in the interests of the whole of the UK.
The Welsh government said First Minister Carwyn Jones had repeatedly made clear that it had concerns about the impact of the UK government's approach to relations with Europe.
'Exclusion'
A spokesman said: "By writing jointly to the prime minister, the first ministers of Wales and Scotland wanted to show the strength of mutual feeling regarding the exclusion of the devolved administrations from policy development and decision-making on European matters that are of direct interest to their respective administrations - many of which are devolved.
"We are determined that Wales continues to be an integral part of the EU, our single biggest export market.
"This letter is a reassertion of our strength of feeling about the impact the UK government's decision to use the veto will have on our relationship with our nearest neighbours."
The first ministers called on Mr Cameron to chair an extraordinary meeting of the Joint Ministerial Committee to allow all four administrations, including Northern Ireland, to discuss the full implications of
They have also requested the reinstatement of a standing invitation to a regular UK government policy forum on the EU.
The two have already written to Downing Street separately about the matter.
Sufficient safeguards
Their joint letter says: "Issues of prime importance to the devolved administrations are frequently discussed in Brussels and we were not sufficiently sighted to be able to manage the potential consequences and risks of the UK's recent policy decisions."
On Monday, the prime minister wrote to Mr Salmond telling him his actions were "taken in the interests of the UK as a whole".
He said all of the UK, including Scotland, "is benefiting from the credible fiscal policy" adopted by the coalition government in Westminster.
Mr Cameron has said he vetoed treaty changes at the summit in Brussels because what was on offer did not provide sufficient safeguards on financial regulation.