University of Wales closure: AMs to examine legislation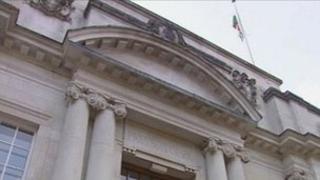 Legislation to wind up the University of Wales will be considered by AMs after being withdrawn from Parliament, BBC Wales can reveal.
A Private Bill was laid before Parliament in order to merge the institution and its assets into the University of Wales: Trinity St David.
Primary legislation is required for the merger to take place because both universities carry a Royal Charter.
But the Bill was withdrawn and will be passed through the Welsh assembly.
The assembly has had full primary law-making powers since May's referendum.
The exact mechanism by which the legislation will be passed has not yet been determined, but it could mean AMs will have a say in what happens to the assets of the University of Wales as part of the merger.
The Bill initially put before Parliament provided for the "transfer to the University of Wales: Trinity Saint David of all rights, properties, assets and obligations of the University of Wales".
Torrid few months
Geraint Talfan Davies, chair of the Institute of Welsh Affairs, has previously suggested some of its assets and properties could become new "national" institutions, such as the extra mural centre at Gregynog, and a trust to administer the university's reserves and endowments.
The merger will also see Swansea Metropolitan join the new institution, although this will not require legislation as it was not founded with a Royal Charter.
The assembly's business committee is likely to decide in the new year on the best process for taking the legislation forward.
The proposed merger was announced following a torrid few months for the University of Wales where its policy of accrediting qualifications in overseas institutions came under intense scrutiny.
It announced in September that it was scrapping the policy, and pursuing the merger with Trinity St David and Swansea Metropolitan.
The University of Wales was effectively abolished earlier this year and was criticised over BBC Wales' revelations of a visa scam at a partner college in London.
The University of Wales: Trinity Saint David, welcoming the decision, said it understood it would be the first example of a private bill to be presented to the Welsh government.
"On the 14 December the Welsh assembly confirmed with university officials that it would be able to bring forward internal processes for ensuring that the Welsh government would, after all, be able to consider a private bill," said a spokeswoman.
"This is also the preferred route for the university, given the significance of this legislation for the higher education sector in Wales."