Political battlegrounds for 2012 in Wales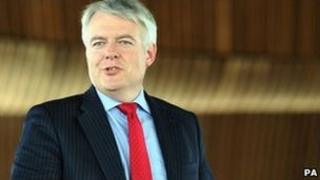 What will 2012 hold in store for Welsh politics?
It provides an opportunity to put Welsh lawmaking plans into action, and there will be at least one new leader of a Welsh party.
But spending cuts and the prospect of regional pay could lead to further strikes.
2012 should see the Welsh government using its new lawmaking powers, with ministers promising a bill introducing presumed consent to organ donation on death unless a person has opted out.
However, Cardiff University devolution law expert Dr Marie Navarro says there are obstacles to be overcome if that is to become law.
For example, she thinks the government may need to guarantee families a legal say over the donation of relatives' organs to accord with human rights legislation.
Dr Navarro said: "I think if guarantees are given - such as the involvement of families, special provisions made for children and incapable people - [they] would, amongst others, guarantee that the scheme would comply with the European rights."
Lacking an overall majority, First Minister Carwyn Jones's Labour government needed a deal with opponents to pass its budget programme.
To avoid such difficulties in future, might Labour form a coalition with another party during 2012?
Mr Jones told BBC Wales: "I don't think there's any case made for a coalition. I don't think any of the other parties here would believe that was the case either."
Regional pay
Late 2011 saw strike action over changes to pensions as part of public sector cuts.
Martin Mansfield, general secretary of the Wales TUC, believes that, as cuts deepen, there could be further unrest ahead as the prospect of possible regional pay adds to workers' woes.
He said: "The UK government has asked the pay review bodies to look at that and report back around the middle of the year, around June/July, with the instruction of 'How would you make regional pay work?' rather than 'Can this happen or should this happen?' "
He said pay schemes incorporating London weighting and cost of living wage increases already catered for the additional expense incurred by employees living in certain regions of the UK.
Mr Mansfield said: "We don't expect that the actual basic pay should be any different for a nurse or any other public sector worker in Wales than it is in south west England or south east England."
He said the Welsh government had been "very positive" in arguing that regional pay is "inappropriate".
Local focus
In May there will be elections to choose local councillors.
In 2008, Welsh Labour lost five authorities and 124 councillors. Much attention will focus on whether they win wards back, on how the Welsh Liberal Democrats will do, and on what that might mean for the UK's Conservative-Lib Dem coalition government.
Professor Richard Wyn Jones of Cardiff University's Wales Governance Centre said the Welsh Lib Dems had had a "miraculous escape" at May 2011's assembly election which he believed it would be a "real challenge" for them to repeat.
He said: "If they perform poorly and if that's part of a general overall poor performance by the Liberal Democrats in the council elections that's going to put particular strain on Nick Clegg and indeed on the coalition as a whole."
Plaid Cymru will elect a leader to succeed Ieuan Wyn Jones in March.
Future of the union
AMs Elin Jones, Dafydd Elis Thomas, Simon Thomas and Leanne Wood have declared their intention to stand.
The new leader must decide how to carry forward Plaid's aim of independence for Wales knowing a referendum has been promised on the issue in Scotland.
Political commentator Gareth Hughes thinks that gives Plaid an opportunity which he believes Elin Jones in particular would be quick to grasp.
He argues that in advance of a Scottish referendum the UK press is likely to be full of articles questioning whether the union will be broken up.
Mr Hughes said: "It will, in political terms, go right to the top of the agenda. Now Plaid Cymru, I think, would be wise to go with that flow.
"It is their party's core aim and I think they need to be quite honest about it and bring it up front.
"And that will give them a unique selling [point] that differentiates them from the other parties."
Add November's first election of police commissioners to the mix and there's a fair amount to be decided in the next twelve months.
But it's often the case that the really fascinating events in any year are the ones you don't see coming.