Welsh Lib Dem and Labour leaders hold talks over spending plan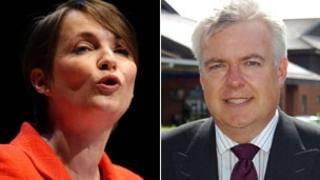 Welsh Lib Dem leader Kirsty Williams is to meet First Minister Carwyn Jones to discuss her party's priorities for spending the assembly's £216m in extra capital funding from the Treasury.
Next week's meeting comes after the Lib Dems helped the Welsh Labour government push through its budget in December.
Ms Williams said a mortgage deposit guarantee scheme would be a priority to help tenants buy their own homes.
The money was announced by Chancellor George Osborne last November.
Social housing
Although still in opposition, the budget deal with Labour gives the Lib Dems some say on how the extra money is spent.
Ms Williams confirmed the meeting is due to take place and said one of her party's priorities is the establishment of a mortgage deposit guarantee scheme.
She said it would help people living in private rented accommodation, but who can afford monthly mortgage repayments, to buy a house.
The knock-on effect would be to free up social housing for those who cannot and never will be able to afford to buy their own home, and give a boost to the construction industry, she said.
The Welsh Liberal Democrats also said that they would call on the first minister to take action to alleviate fuel poverty.
The budget agreement followed a deal between Labour ministers and the Lib Dems to offer more money to help the education of the least well-off pupils.