Dafydd Iwan welcomes Plaid Welsh National Party name change idea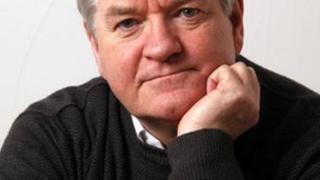 A former president of Plaid Cymru has welcomed the idea of changing the party's English name, but not at the cost of "diluting our Welshness".
Dafydd Iwan said adopting the title of Welsh National Party instead of the Party of Wales had its strengths.
A review by party grandees has suggested that members should consider a name change.
Mr Iwan agreed with the review's finding that Plaid was often perceived as a party only for Welsh speakers.
'Lack of clarity'
The possibility of a name change has been welcomed by one Rhondda Plaid councillor, but another in Gwynedd said the party had bigger problems to deal with.
The review was commissioned after disappointing results at last year's Welsh assembly election.
It said Plaid should be clearer about its goal of Welsh independence, and there had been a "lack of clarity" over Plaid's constitutional policy.
Mr Iwan, who was Plaid president from 2003 to 2010, said: "I certainly agree with the statement that Plaid Cymru has to clear the air on independence and how we get there.
"The question of the name is something I concur with. Other parties are starting to call themselves the party of Wales.
"Party of Wales is merely a translation of Plaid Cymru. The Welsh National Party would be a stronger label. It's not a big thing."
Mr Iwan said the suggestion of a name change had "obviously" come from English speaking areas, but Plaid Cymru would always be the party's main name.
"Calling it Welsh National Party in English would have its strengths and would highlight the national element," he added.
"We do have a slight problem with a perception among English speakers, in that if you don't speak Welsh you can't be a member of the party.
"Having a strong English name could help."
But Mr Iwan added that Plaid Cymru "should never appear to be diluting our Welshness and the ambition of the Welsh nation".
'Positive step'
In the Welsh language heartland of Gwynedd, county councillor John Wynn Jones, who represents the Hendre ward in Bangor, said the party had bigger problems to solve.
He said: "The name is the least of our worries. I think we have bigger fish to fry. I wish they had not bothered because it's a bit of a red herring.
"With the changes we're going through, such as a change of leader, the name is one of the last things to change.
"But I haven't read the findings of the review yet."
John Daniel, who represents Aberdare West/Llwydcoed for Plaid on Rhondda Cynon Taf council, said it was a positive move.
"People tend to interpret Plaid Cymru as a party for Welsh speakers, but it's for everyone," he said.
"We don't have as many Welsh speakers as north Wales, but changing the name would make it more of a universal party.
"I think this would be a positive step and would attract more voters."