Welsh Tories cancel conference with two weeks' notice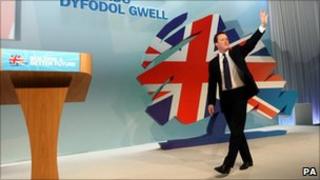 The Welsh Conservatives have cancelled their party conference two weeks before it was due to take place.
The party said it will hold a one-day rally instead, where it will launch its campaign for May's council elections.
The annual conference was due to be held in Llandudno on 3 and 4 February, but the date and venue of the one-day event have yet to be announced.
Llandudno Hospitality Association chairman David Williams called the news "disappointing".
A Tory source indicated the party faced higher security costs now it was in government.
A party spokesman said 2012 was an important year for the Welsh Tories "and we need to continue the work we have begun in building our activist base".
"Particularly important are the upcoming council elections across Wales, and in order to give these the fullest support, we are changing our plans for the Welsh Conservative Party conference this year.
"The new format will be a one-day rally launching our local government campaign for party activists."
This would have been the first Welsh Conservative conference since Andrew RT Davies was elected party leader in the Welsh assembly last July.
Last year's conference in Cardiff was held in conjunction with the UK-wide party's spring forum.
Plaid Cymru AM Llyr Huws Gruffydd said: "The Conservatives clearly don't prioritise talking to their own members or the electorate in Wales."