PIP breast implants: UK government 'slow to share info'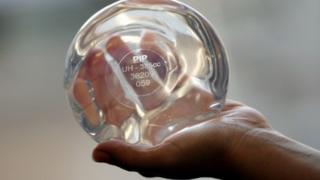 The UK government did not share information quickly enough during the PIP breast implants furore, says the Welsh health minister.
Lesley Griffiths told BBC Wales' Dragon's Eye she had to make decisions over how to deal with the implants without all the evidence.
Welsh ministers decided the NHS in Wales would replace the implants if it was deemed medically necessary.
The Department of Health said the allegations were "simply untrue".
Over the past few weeks breast implants have caused a health scare in Europe and South America due to the risk of them rupturing in the body.
The issue is with silicone breast implants made by the French company Poly Implant Prothese (PIP).
The medical advice in the UK is that there is no need for all the low-grade silicone PIP breast implants to be removed, only those that are causing problems such as pain or tenderness.
In England, the NHS will only replace them in exceptional circumstances.
In a statement to the Dragon's Eye programme, the UK government denied the claim that information was not shared.
A Department of Health spokesperson said: "The allegations are simply untrue, CMO (Chief Medical Officer) rang her Welsh counterpart prior to the announcement to share the findings.
"Copies of the report which include the available information were sent to Welsh colleagues, we have shared all of our information.
"The Welsh government did not inform us prior to their announcement on PIP implants."
UK Health Minister Andrew Lansley has argued that the Welsh government's policy of replacing the implants risks letting the private companies who performed the original surgery off the hook.
There are also concerns that the waiting lists for plastic surgery in Wales will be severely tested unless more resources are made available to deal with this.
One of the leading plastic surgeons in Wales, Hamish Laing, who chairs the National Specialist Advisory Group on Plastic Surgery, which advises the Welsh NHS says that extra resources will be required to help the health service deal with PIP cases.
He argues that there have been indications from ministers that this will happen.
Ms Griffiths has said that the patients who require treatment to remove or replace PIP will join the plastic surgery waiting list and will not necessarily be treated as a priority.
Dragon's Eye, BBC Two Wales, Thursday 19 January, 19:00 GMT