Plaid Cymru review: Pull your socks up, Eurfyl ap Gwilym tells spokespeople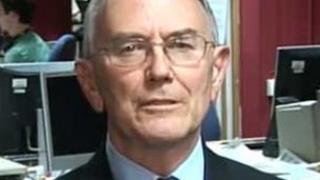 Some Plaid Cymru politicians need to improve their performance as policy spokespeople, according to the leader of a party review.
Eurfyl ap Gwilym said some Plaid candidates underperformed at last year's assembly elections.
His review was commissioned after Plaid lost seats in the Senedd last May, falling to third behind Labour and the Conservatives.
Some in the party had to "pull up their socks," he said.
Dr ap Gwilym's review said that "too many party spokespersons appeared to lack both competence and confidence in presenting our policies".
It says "it should be a precondition that they develop a sound understanding of their own brief but should also be briefed on the full range of party policies".
'Weak performances'
He told BBC Wales' Dragon's Eye programme: "I'm very critical of some [candidates] and we've seen weak performances from some spokespeople on some subjects."
He declined to name names, adding: "They know who they are.
"They need to pull up their socks, get a lot smarter or they shouldn't be candidates or spokespeople."
His report contains 95 recommendations and a suggestion that Plaid adopts Welsh National Party as it English name to counter an impression that it is a party for Welsh speakers.
It comes as Plaid searches for a leader to take up the reins from Ieuan Wyn Jones.
Mr Jones announced he would stand down after the party's disappointing election result.
Four AMs are in the running to succeed him. Nominations for candidates close on 26 January.