Carwyn Jones faces down opponents' 'inaction' claims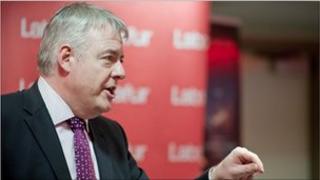 First Minister Carwyn Jones has said Welsh Labour is "firmly on the front foot" despite opposition claims of inaction since last May's election.
Opponents have attacked what they say is a failure to act on the economy and bring forward enough new legislation.
But Mr Jones tried to shrug off criticism, saying the Welsh government had made significant progress.
Other parties were criticising Labour because they lacked their own new ideas, he said.
Launching a Labour document called Delivering for Wales, he said: "They've got nothing else to say. It's what we expect.
"When you have opposition parties who have no ideas, all they're going to do is complain about the government.
Delivered nothing
"If they have ideas of their own, then let's see what they are, but we clearly see now that there is no original thinking out there on the part of the other parties, but there is in this party and that's why it's so important that we take forward our programme for government."
Speaking to journalists in Cardiff on Tuesday, Mr Jones denied the event amounted to a relaunch or that Labour was concerned that claims about a lack of delivery were gaining traction.
Conservative assembly leader Andrew RT Davies said Labour "didn't know the meaning of the word delivery".
He said Wales was the "poorest part of the United Kingdom", educational attainment was falling and the health service faced cuts.
"That's not delivering for the people of Wales, that's robbing the people of Wales," he said.
Plaid Cymru said Labour had delivered nothing since the election in May 2011.
'Lack of ambition'
Plaid assembly member Leanne Wood said Mr Jones had to "up his game".
Labour's report was an "attempt to deflect attention away from his lack of ambition and lack of delivery for the economy", she said.
Welsh Liberal Democrat AM Aled Roberts said only one government bill, on local government by-laws, was going through the assembly. Ministers are consulting on plans for other forthcoming pieces of legislation.
Mr Roberts said: "This speaks volumes of the lack of enthusiasm and imagination that characterises the Labour party and how little they have to offer the people of Wales."