Social Services Bill: Greater power for people in care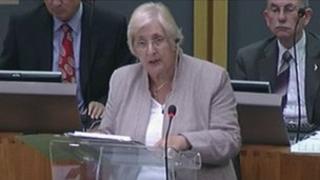 The Welsh government says it will give greater power and control to thousands of people who receive care.
It says its new Social Services Bill will give users a legal set of rights, and offer more chances for people to be in charge of their own care budgets.
Early intervention, and calls on councils to co-operate - including the possibility of sharing social services directors - have also been promised.
Care Forum Wales welcomed the Bill, which will go to public consultation.
The Bill, which could be introduced in October, will take forward the idea of a single adoption agency for Wales, first discussed last year. There are currently 23 adoption agencies in Wales.
"There is no doubt that social services face real pressures from changes in what we all expect of public services, from demographic changes and from increased demand," said Gwenda Thomas, deputy Minister for Children and Social Services.
"There are some who are prepared to accept that it is inevitable that fewer and fewer people should get services. I am not one of those.
Bed blocking
"I believe that if we work more closely with people who need services, if we work with them to understand how we can support them in overcoming the difficulties they face and if we can work with local government to deliver that little bit of help early on, then together we can support people in living their life in the way that they choose."
Care Forum Wales, which represents more than 500 in private social care, said the Bill was the "most important development in social care for two generations".
It believes that a better integration of the independent sector will help to reduce bed blocking in hospitals by providing more appropriate and more cost-effective care in the community.
Chairman Mario Kreft said: "We're delighted with the legislation because it recognises that at a time of increasing need, with dwindling resources, this is a blueprint for action.
"It's potentially the most important change to social care in two generations which is going to hopefully cut bureaucracy and focus resources and services to where people need them."
He added: "At a time of austerity, this is about doing things better and more cost-effectively. It's a victory for common sense."