PIP Breast implant row: Lansley demands to know Welsh government policies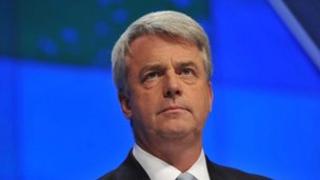 UK Health Secretary Andrew Lansley has demanded his department is notified in advance of any "contradictory" public health policies in Wales.
Mr Lansley complained that he found out about the Welsh government's policy on removing and replacing faulty PIP breast implants through the media.
He asked that Whitehall is notified in future if the devolved administration takes a different approach to his.
A Welsh government source accused Mr Lansley of being "patronising".
In England, faulty implants will only be replaced in exceptional circumstances.
There was a row between the Department of Health (DoH) and the Welsh government when Health Minister Lesley Griffiths announced the Welsh NHS would take a wider approach, removing and replacing all faulty implants if deemed medically necessary, even if they were from private treatment.
The DoH fiercely denied claims from Ms Griffiths that it had been slow to share vital official information about the safety of PIP implants as the crisis unfolded.
Following the Welsh government's announcement, Mr Lansley came under pressure from some MPs about why he was not following a similar policy.
In a letter to Ms Griffiths, seen by BBC Wales, Mr Lansley says: "I would... like to take this opportunity to seek your assurance that in the future you will inform my department if the Welsh government decides to take a contradictory approach to a public health issue before we learn of it through the media, which was the case in relation to your comments regarding the replacement of PIP breast implants on the NHS."
The letter has also been circulated to the Scottish and Northern Irish health secretaries.
Mr Lansley says his officials will keep Ms Griffiths informed of the review of the safety of patients contemplating cosmetic surgery, led by Sir Bruce Keogh.
Signed memorandum
He also reassures her that any decisions taken as a result of the review will "where appropriate" respect the devolved nature of health services in the UK.
Mr Lansley says he will draw the review team's attention to the work of the Surgical Materials Testing Laboratory based in Bridgend, after Ms Griffiths suggested the English NHS might wish to use it.
In March 2010, the Welsh government, along with the UK government and other devolved administrations, signed a memorandum of understanding designed to ensure good communications between them.
The Welsh government said health was a "wholly devolved matter", but said it did not comment on leaked documents.
A source said: "Andrew Lansley's letter is arrogant and patronising.
"Behaving like devolution never happened flies in the face of the respect agenda so often talked about by the prime minister."
The DoH has been asked to comment.
This is not the first time the two administrations have been in conflict over where power lies. For example, in August 2010 then Health Minister Edwina Hart said she wanted Wales to take charge of rules surrounding alcohol sales, including minimum price, licensing hours and advertising.
But the UK government rejected the idea, and said alcohol licensing powers were "specifically excluded" from the devolution settlement.
Mr Lansley had also voiced doubt over alcohol minimum pricing on the grounds that it punished low-income families.