Welsh hospitals exclude relatives at meal times, say AMs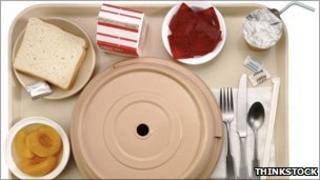 Relatives are being stopped from helping vulnerable and infirm patients during meals at some hospitals, says a report by Assembly Members.
Patients are not allowed to offer assistance under a "protected meal times policy", according to the cross-party Public Accounts Committee.
The policy was introduced so patients could eat without being interrupted.
The Welsh government said several of the report's recommendations were already being put in place.
Assembly Members said they were concerned to hear the meal times policy had been used to exclude relatives from wards.
They said the Welsh government should issue the NHS with guidance, stating that relatives be allowed to assist at meal times if they wanted to.
In a report, the committee echoed a warning by the auditor general for Wales that there had not been enough improvement in the way patients' nutritional needs were screened when they arrived at hospital.
The amount of food wasted was "unacceptably high on many wards", the committee said.
About 15% of food is thrown away, costing an estimated £1.5m.
'Disturbing evidence'
Committee chairman Darren Millar said: "Our report highlights disturbing evidence of a policy designed to improve patient care actually having the opposite effect because of poor communication and interpretation.
"Where the policy is being correctly implemented, the committee was pleased to see positive results and we urge the Welsh government to issue further guidance to ensure consistently high standards of service across all Welsh hospitals.
"We also recommend that every patient is advised of what standards of catering service they should expect at the point of admission and that food hygiene ratings should be prominently displayed in all hospitals."
Ruth Marks, the older people's commissioner for Wales, said involving relatives, friends and volunteers was a recommendation she made in a report last year which highlighted the "shamefully inadequate" care of some elderly patients.
She told BBC Radio Wales that meal times were a key area in which help could be enlisted.
"Because the majority of older people in hospitals might need some assistance at some stage in choosing from the menu or reaching good nutritional food... it's important to be able to have the support from relatives and friends if they're available.
"Having nutritional and appealing food is an essential part of getting better, and you have to be able to get that food and get that drink in order to be on the road to recovery and on the way home."
'Significant improvements'
Last year the auditor general, Wales' public spending watchdog, said hospital catering was improving, but more had to be done to make sure patients received the right "nutritional care".
A Welsh Government spokesperson said: "We welcome the committee's report and will be responding in detail in due course, but several of the report's recommendations are already under way as part of our work with LHBs [local health boards] to implement the latest nutritional standards in hospitals.
"Several initiatives have been introduced across Wales which have led to significant improvements both to the nutritional quality of food and the patients' meal time experience."