Lisa Francis quits Tories in protest at running of party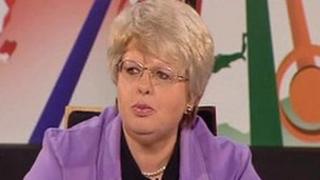 A former assembly member has quit the Welsh Conservatives in protest at the way the party is run.
Lisa Francis called for better communication with grassroots members, who "need to feel a sense of belonging and inclusion".
The former Mid and West Wales AM said she felt there was "little appetite within the party for positive change to this effect".
The Welsh Conservatives said the party was "sorry" to hear of her comments.
MP Glyn Davies said Ms Francis would be a "real loss" to the party.
Ms Francis, who was an AM from 2003 to 2007, explained her reasons for leaving the Conservatives in a statement on her website.
She said she would "always espouse the politics of the centre-right", but had decided to quit last September amid concern about the way the party was run and its membership treated.
"To rather crudely mix my metaphors, I arrived at this conclusion: if a horse doesn't want to be led to water, then there ain't no point flogging it until it's dead!
'Sense of belonging'
"Whilst it cannot be denied that Welsh Conservatives have done well in recent elections, it's my belief that the way the party is run may not augur well for sustaining these good results and more importantly, for recruiting new members and appealing to people from all walks of life," she said.
"No one individual is to blame for these problems, but as was evidenced by the party's poor communication problems over the recent cancellation of their Welsh Conference, there really does need to be radical root and branch reform.
"I think that most people would agree that the progress of any organisation is dependent on its reputation. In my opinion, in order to improve this, the Welsh Conservatives need to get their marketing right and to properly serve their members."
Ms Francis, a hotelier in Aberystwyth, said she needed to see evidence that salaried party staff in Wales were performance managed, and called for better communication from the party's management board to rank-and-file members.
"Members want and need to feel a sense of belonging and inclusion and that their opinions are valued," she said.
"This means making regular contact and not just asking them to deliver leaflets at election time!"
Glyn Davies, Conservative MP for Montgomeryshire, said he was sad to see Ms Francis leave the party.
"Lisa is as sound as a bell, and a real loss," he said in a Twitter message.
Also on Twitter, Darren Millar AM said: "Sad to read Lisa Francis has moved on from her party.
"Lisa was a great Welsh Conservative AM and I'm sorry to see her go."
A spokesman for the Welsh Conservatives said the party was "sorry" to hear of her comments.
He added: "She worked hard for us as an assembly member and we wish her well for the future."