Boundary Commission for Wales seeks views on changes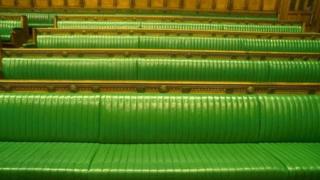 Voters are being asked for their views on plans to cut the number of Parliamentary constituencies in Wales from 40 to 30.
Public hearings begin in Swansea on Wednesday before moving around the country during the next five weeks.
The boundaries are being redrawn as the UK government wants all parliamentary constituencies to have roughly the same number of electors.
The Boundary Commission for Wales says it wants to hear ideas from the public.
Changes are planned across Wales and the proposed new constituencies also take into account local issues such as geography, local authority boundaries, roads and community links.
Boundary Commission for Wales secretary Ben Whitestone told BBC Radio Wales: "Ideally what will carry more weight with the commission is if people can come along or write to us and let us know whether they have any counter proposals."
He said the cut in the number of constituencies was not up for debate as that had been laid down by the UK government.
But he added: "The consultation process has been open for five weeks already and we are already seeing counter proposals come through.
"Some of them might look at one or two constituencies and the balance between the two. Some may look at three or four, the whole of Wales or some may focus on just the naming of the constituency.
"The commission wants to hear what people think and will make changes to its proposals as a result."
It is estimated over half of the current MPs in Wales could lose their seats due to the changes.
But Mr Whitestone said while representatives from the four political parties from Wales with MPs at Westminster would be addressing Wednesday's hearing in Swansea the commission would not take into account any political interest.
"We will not take into account any particular voting patterns that might be affected," he added.
The act stipulates that the number of electors in each constituency must be between 72,810 and 80,473.
All submissions will be transcribed, translated and posted online, along with any written submissions received during the initial 12-week consultation.
The commission's final proposals will be submitted to Parliament by October 2013.