Welsh Labour conference: Reach beyond core vote, says Carwyn Jones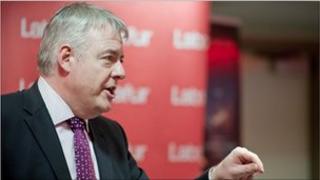 Carwyn Jones will call on his party to reach beyond its core support when he addresses the Welsh Labour conference.
Mr Jones will say last year's assembly election result is "base camp", not the end of the road, as Labour tries to win councils at local elections in May.
Voters will be invited to join a new register of Labour supporters, giving them a role in electing party leaders without becoming full party members.
Mr Jones speaks to the conference in Cardiff on Saturday afternoon.
Labour won back ground in the assembly last year, but fell one seat short of the majority it wanted.
Since then, the first minister will claim his Welsh government has taken "decisive steps" on the economy.
"I'm proud to say action we have taken is not just about the here and now, but in many instances, the initiatives we have set in train will help Wales in the years to come too," he will say.
Opposition parties in Cardiff Bay have criticised Labour for not doing enough since being re-elected.
But Labour is keen to stress that its Welsh government is showing an alternative to the policies of the Conservative-Liberal Democrat coalition in Westminster.
Govern alone
Labour won 30 out of the 60 seats in the Senedd last year, but Mr Jones has made clear he intends to govern alone.
Late last year he passed his first budget after striking a deal with the Lib Dems to boost education spending on children from the least well-off families. Both parties said it was a one-off agreement, not a sign of formal coalition deals.
Mr Jones will also re-assert his stance on the NHS, drawing a contrast with the UK government's reforms of the health service in England.
"The forces of marketisation and privatisation of the NHS will stop at the Welsh border," he will say.
'Tackling injustice'
Party leader Ed Miliband will try to push the message of an alternative to the coalition when he addresses delegates, portraying Labour in power in Wales as a stepping stone towards Downing Street.
He will say: "We have always been about righting wrongs, tackling injustice on behalf of people's aspirations.
"And today Britain needs these ideals more than ever. We need a Labour government in Westminster as a partner to a Labour government in Wales."
He is expected to highlight examples of Welsh companies that sources said were "ambassadors for responsible capitalism".
The economy must work for everyone not just "those at the top", he will say.
He will also cite figures from the thinktank the Institute for Fiscal Studies which show families with children will be worse off as a result of tax and benefit changes contained in Chancellor George Osborne's autumn statement last year.