Drought: No approaches over Welsh water supply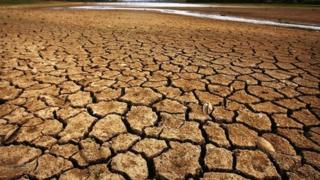 Ministers have not been approached by Westminster about any calls for water from parts of Wales to be used to help ease the drought in south-east England.
But the Welsh government said the people of Wales should receive proper value for "this vital resource".
There have been no talks on the issue.
The Institute of Civil Engineers (ICE) wants changes in approach to water management, including improved interconnectivity between water companies.
On Monday the Department for Environment, Food and Rural Affairs (Defra) revealed that much of southern and eastern England was officially in a state of drought.
Hosting a drought summit Environment Secretary Caroline Spelman said groundwater levels in parts of south-east England were lower than in the infamously dry summer of 1976.
In a newspaper article last June London Mayor Boris Johnson called for rain from the mountains of the UK to be used to to tackle water shortages in drier UK areas.
A recent UK government water white paper, Water For Life, called for greater interconnection in the UK's water supply system so that resources could be used more flexibly and efficiently.
Meanhile, chair of the Institution of Civil Engineers water panel (ICE) Michael Norton commenting on the drought summit said: "If we are to avoid the spectre of drought becoming an annual event we must urgently change our approach to water management."
He said there needed to be a more strategic overview and a focus on preventative measures for addressing scarcity before it gets to drought stage.
"Introducing demand management measures, improving interconnectivity between water companies and better and more imaginative methods of storing winter water would be a good start to safe-guarding this precious resource for the future," he said.
'Innovative approach'
Severn Trent Water, which supplies water in mid Wales, as well in the English midlands, said it fully supported "water trading".
"Over the last six months Severn Trent has focused on moving raw water supplies across its water 'grid' from the wetter West to the drier East to balance," said a spokesman.
The Wales Office said the transfer of water out of Wales was a matter for the Welsh government.
The Welsh government said there had been no discussions between the Welsh and UK governments about moving water from Wales to parts of England.
To date the UK government had not approached the Welsh government to discuss the matter, said a spokesman.
The spokesman said: "The Welsh government has been clear that any discussion on this issue will be on the basis that the people of Wales should receive proper value for this vital resource and where the environment in Wales is properly protected.
"The current water resource position in Wales is healthy with strategic reservoirs at, or very near to, full capacity.
"This is to be expected for this time of year, but if we have a dry spring, such as those of the last three years, the situation could deteriorate quite rapidly.
"The Welsh government is working closely with the water industry and the Environment Agency in Wales to monitor the situation."
Earlier, speaking on BBC Radio 2's Jeremy Vine show on Tuesday, Plaid Cymru MP Elfyn Llwyd said Wales should receive "a commercial return" for any water it supplied.
The Dwyfor Meirionnydd MP said: "I have to say being realistic, I see no reason why if the Welsh government, with the support of the Welsh people, say we want to come to some accommodation, let's go ahead and do it.
'Commercial return'
"We will have an amicable agreement with our friends in England but on a commercial basis and I think that's entirely appropriate."
Mr Llwyd said: "I would be more than happy for the Welsh government to decide - in discussion with Westminster - we will supply you with water, the Welsh people are fully in support of that, but there should be a commercial return."
He added: "It's not going to be an Opec situation where all of a sudden, a litre of water goes up 10-fold. None of that, just a reasonable, amicable, commercial arrangement."
He said he had been in touch with Prof Roger Falconer of Cardiff University, and both believed a possible solution could be to move water via rivers and canals.
His comments prompted former Plaid Cymru leader Dafydd Wigley to call for compensation should water supplies be taken from Wales to ease shortages in England.